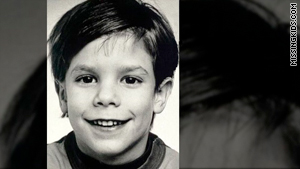 New York (CNN)
-- His was the first face of a missing child to
appear on the back of a milk carton. Now, nearly 31 years to the day
since Etan Patz vanished from a New York street, authorities are
reopening his case.
The communications director for Manhattan
District Attorney Cyrus Vance Jr. confirmed that the office is taking
another look at the decades-old mystery.
"It's a case that the
district attorney has been aware of since before running for office last
year," said Erin Duggan. "Last summer he said he would take a fresh
look at the case if he became district attorney. Tuesday he confirmed
that the case had been reopened."
Duggan added, "This was the
disappearance of a child that gripped the residents of Manhattan and
continues to leave many questions unanswered."
Etan was 6 when he disappeared on the morning of May 25, 1979. "It
was the first day that he was to walk two blocks from his apartment to
the school bus stop," said Lisa R. Cohen, author of "After Etan: The
Missing Child Case That Held America Captive."
"He had been
wanting to do it by himself, and they gave him permission, literally two
short blocks," Cohen said. "And his mother could see the bus stop at
the end of the street and she saw parents there, waiting with kids for
the bus, and so she let him go."
Etan was never seen alive again.
Jose Antonio Ramos, a convicted child molester, has been identified
as a suspect in the disappearance, but has never been charged in
connection with the case.
According to Cohen, Ramos initially
told investigators that he was "90 percent sure" that a boy he had taken
home on that day in 1979 was Etan.
Ramos has since denied making that statement, she said.
Cohen
said Etan's father, Stan Patz, contacted her after the news was
announced that the prosecutor was reopening the case. "He said, 'Maybe
we'll finally get our day court,'" she said.
From families and
detectives to people in the missing children movement, this case changed
everything, Cohen said.
"Before Etan, parents
did not have an image in their mind that something could happen to their
children," she said. "And after Etan, they did."
CNN Crime
Manhattan DA Reopens Case of Boy Who Vanished in 1979
Published May 27, 2010
| Associated Press
In this 1985 file photo, Stanly Patz, left, holds a photo of his missing son Etan, as he poses for a photo with his other son Ari, at their home in New York.
NEW YORK -- Six-year-old Etan Patz vanished on May 25, 1979. One of the most extensive missing-child searches was mounted to find him, but two decades later, the boy was officially declared dead. No one has ever been arrested.
Now, the Manhattan district attorney's office will take a fresh look at the evidence collected against the prime suspect, a convicted child molester serving 20 years in prison in Pennsylvania.
By looking into the cold case, Cyrus R. Vance Jr. will be making good on a campaign promise. A spokeswoman for Vance said Wednesday she could not comment further on an open investigation.
Etan Patz vanished while walking from his lower Manhattan home to a bus stop two blocks away. His disappearance spawned the national movement to publicize the cases of missing children. His photo was the first put on a milk carton, and his case turned May 25 into National Missing Children's Day.
The longtime former district attorney, Robert Morgenthau, said repeatedly he didn't have enough evidence to charge anyone. But Etan's father, Stan Patz, said that while there is little forensic evidence, he believes there is enough to convene a grand jury and get an indictment.
"All we have been asking for is the district attorney to take a good look at the information," Patz said. "I realize this is not like `CSI.' That's why it's been a tough case all along. But there is enough evidence that a competent attorney can use to prosecute."
Jose Ramos, who had dated Etan's baby sitter, has been the prime suspect all along, according to the boy's family. Ramos allegedly admitted to Pennsylvania authorities that he tried to molest Etan on the day of the child's disappearance but has denied harming him. It was unclear Wednesday if Ramos has an attorney, and Ramos was unreachable at the prison.
After Etan's disappearance, his parents kept the same number and stayed in the same SoHo apartment, in case he returned. But in 2001, after waiting 22 years, they obtained a court order declaring the boy dead.
In 2004, a Manhattan judge ruled Ramos was responsible for the boy's disappearance and presumed death, after the inmate ignored orders to answer deposition questions for a lawyer for the boy's parents. He was later ordered to pay $2 million to Etan's family.
Ramos is to be released in 2012 after a 20-year sentence for sexually abusing an 8-year-old boy, bringing a certain urgency to the case, which was never officially closed, the boy's father said. At least one FBI agent and a New York Police Department liaison is assigned to the case.
Patz is hopeful a fresh pair of eyes will yield some results.
"He (Vance) says he's willing to do that, and the fact he's willing to say it in public is very encouraging," Patz said.
I hope the family get the justice they deserve and that maybe they will find where the body of their little boy was dumped so he can get a dignified burial.
I wonder if the suspect will be released because he will do it again as soon as he freed.
I hope kate and gerry read this because they have to live every day of the rest of their miserable little lives wondering if today is the day they get arrested and charged.
If they confess it all now then maybe the judge will be merciful, but, the longer they carry on this charade the harder it will be for them.
They don't really have any freedom now , even though they are not behind bars, their reputations are in tatters, their friends have deserted them, their family distrusts them and is clearly distancing itself from them. Rgather than being forced to lie about what good parents etc they are they instead say nothing which is very telling.
The only one who seems to stay in touch with them is the pink princess and thats only because he is being paid.
they have to watch every word they say and everything they do.
That are famous not because they are good doctors which is what they expected but because they are atrocious parents.
Money may have bought their freedom temporarily but it hasn't bought them happiness.
The only day they will feel relief is when the admit the crime and let the truth pour out like a lanced abscess.

hobnob

Elite Member








Number of posts

: 431


Age

: 54


Location

: uk


Warning

:




Registration date :

2009-11-17




---
Permissions in this forum:
You
cannot
reply to topics in this forum