Princess Doe - NJF820715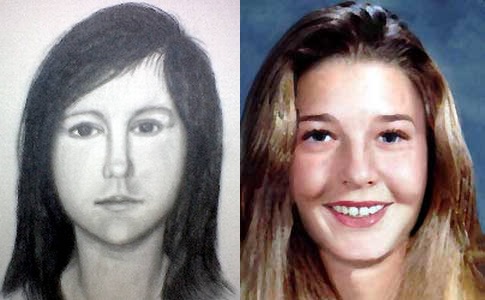 2 recons of Princess Doe. Additional photos are at base of the page
--------------------------------------------------------------------------------
Information
Date Found:
15th July 1982
Location:
Cedar Ridge Cemetery, Blairstown, Warren County, New Jersey.
Condition of Remains
Partial Skeletal
Race:
White
Estimated Age:
14 - 18
Approximate Height:
5ft 2in
Approximate Weight:
11olb
Clothing:
Red v-neck pullover shirt with yellow piping. Wraparound skirt with red, white and blue print.
Jewellry:
Gold-colored chain with small white beads. 14-karat gold cross with an ornate design.
Eye Colour:
Undetermined
Hair Colour:
Medium Brown - Shoulder Length
Tattoo's/Identifying Features:
Both ears were pierced, the left ear twice
Forensics Availability
DNA, Dentals, Fingerprints,
NCIC Number
U-630870962
Porchlight Case Number:
NJF820715
--------------------------------------------------------------------------------
Case Details
Princess Doe was discovered in a wooded area of at the north end of Cedar Ridge Cemetery on in Blairstown, New Jersey. She was partially unclothed. She was severely beaten prior to her death. Her face had been bludgeoned beyond recognition.
Police believe Princess Doe was from the Long Island, NY. area, and was estranged from her family.
The victim was found with red nail polish on the right hand only.
No known surgical scars, birth marks or tattoos. Scars or marks on the head/face area would not be known due to the condition of the body.
The front two teeth are darker than the other teeth. Dental records are available for comparison. The victim's appendix and tonsils were intact
The victim was not pregnant and had never given birth. No conclusive evidence of sexual assault was found but once again, this was difficult to determine because of the exposure of the body.
Toxicology did not reveal any traces of drugs but is not 100% conclusive because of the time lapse between the death and discovery of the body.
It is believed that the body was discovered after 1-3 weeks of exposure - this was difficult to determine because of the hot/humid weather in the area at the time.
--------------------------------------------------------------------------------
Investigating Agency
Please Contact
New Hampshire State Police Major Crimes Unit
Lt. Russ Conte
1-603-271-2663

Guest

Guest






---
Permissions in this forum:
You
cannot
reply to topics in this forum