Burning Building Falls On US Firefighters
Share Share Comments (1)3:32pm UK, Friday August 13, 2010
Huw Borland, Sky News Online
At least six firefighters have been injured after the roof of a burning building collapsed in Detroit.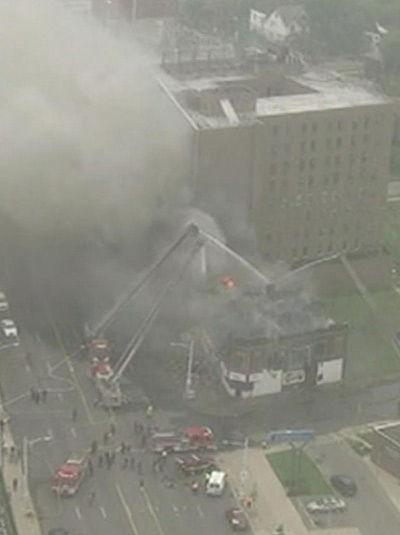 Fire crews continued to battle the blaze in Detroit
Fire crews were battling a blaze on the US city's east side when disaster struck.
Sam Kada, whose brother owns a phone shop in the building, told The Detroit News: "I was at the scene when the rubble from the second storey fell on at least four firefighters."
"I was screaming at them to, 'Look up, look up.' Then the building fell on them."
Some of the guys weren't moving. Some of the other guys were all bloody.
Kerreco Adams, quoted by The Detroit News
A panicked firefighter could be heard on a police scanner asking dispatchers to send everyone available to the scene, the newspaper reported.
Kerreco Adams, who runs a nearby car parts store, told reporters he saw a portion of the building collapse on several firefighters standing on a pavement.
Mr Adams said: "There were calls of, 'Man down, man down.'
"Some of the guys weren't moving. Some of the other guys were all bloody.
"You could tell they didn't know where they were. Then all of a sudden, there were police and ambulances from everywhere. It was hard to watch. I'm praying for them."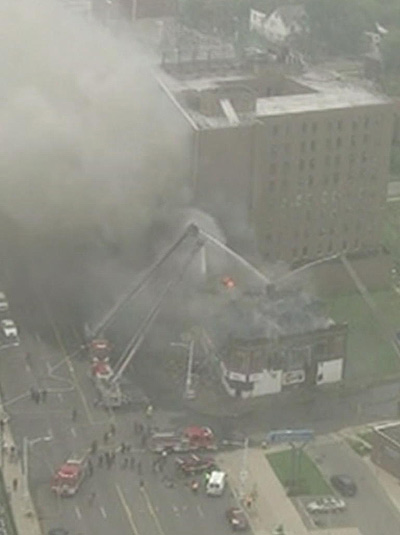 The injured firefighters have been taken to hospital
The injured firefighters were taken to hospitals in the area but there was no immediate word on their condition.
Television footage showed a large, billowing cloud of smoke obscuring the scene of the collapse.
Numerous fire engines, ambulances and rescue vehicles were on the street outside the building.

Guest

Guest







Similar topics
---
Permissions in this forum:
You
cannot
reply to topics in this forum