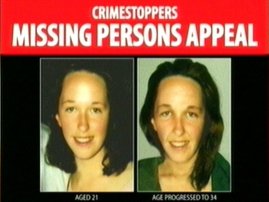 Josephine Dullard has been missing since 11.30 p.m. on Thursday, 9th November, 1995. At that time Jo Jo phoned her friend from a phone box in Moone, Co. Kildare. She told her friend that she was hitching a lift from Moone to her home in Callan, Co. Kilkenny.
A short time later a woman answering Jo Jo's description was seen leaning in the back door of a dark coloured Toyota Carina type car. There were further sightings of a woman similar to Jo Jo in Castledermot, Co. Kildare which is 5 miles from Moone at around midnight on the same evening - Thursday 9th November, 1995.
The driver or occupants of this Toyota Carina type car have never been traced.
Jo Jo is described as 5'4" in height, medium build, dark shoulder length hair. She was 21 years when she went missing.

Guest

Guest





http://www.independent.ie/national-news/rapists-methods-may-hold-key-to-missing-women-1379091.html
LARRY Murphy, the now 43-year-old Wicklow man who was found guilty in May 2001 of the abduction, rape and attempted murder of a Carlow business woman, remains a prime suspect in the disappearance of at least three women.
The cases before Operation Trace are that of the missing 26-year-old American Annie McCarrick, who was last seen on Friday March 26, 1993 as she boarded a bus at Sandyford Road; Eva Brennan, who was last seen leaving her parents' home in Terenure on Sunday, 25 July; 22-year-old Imelda Keenan, last seen at lunchtime on January 3, 1994, in Waterford city; Jo Jo Dullard, the 21-year-old, who was last known to be in Moone, Co Kildare, on the night of Thursday November 9, 1995. Then, on August 23, 1996, Fiona Pender disappeared from Tullamore.

_________________________________________________________________________________________________
\'Those who deny freedom to others deserve it not for themselves.\' Abraham Lincoln


Similar topics
---
Permissions in this forum:
You
cannot
reply to topics in this forum