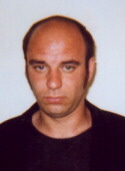 Gardai at Wexford are seeking assistance in tracing the whereabouts of 29 year old Tamaev Juka who is missing since 3rd June 2001.
Mr Juka is a native of Chechnya and speaks with a Russian accent. He had just arrived in Ireland a few days before he went missing and was residing at St Patricks Square, Wexford.
He is described as being 6ft tall, of thin build with brown eyes and a dark complexion. When last seen he was wearing light brown cord trousers and a black jumper.
Anybody with information should contact Wexford Garda Station, telephone 053 - 65200.

Guest

Guest





The reach of Russia is amazing, not to mention frightening
Publication time: 25 November 2006, 21:19
The poisoning of former KGB official Alexander Litvinenko probably is not "directly"
linked to the G.R.U. or F.S.B. if anything that I have heard or seen is anything to go by. After all, such direct and traceable action is downright stupid.
No, like the lady journalist who was gunned down on her way back from the grocery store, it was some disgruntled individual acting alone. There seem to be a lot of these disgruntled individuals acting alone, mind you, in the style of some 'Lee Harvey Oswald' fairytale ( of course the Mafia did not want to get rid of J.F.K. ... after all, he was only investigating them and trying to put them out of business ).
One only has to look at Chechnya - and the death Mafia there - for proof of 'tactics' ( in fact the very term 'tactics' seems to be too grand ). Torture and Genocide by the 'back door'. No 'direct involvement'. Lots of P.R. This past week has made me wonder about something that happened in our own tiny little country, on the 03rd. of June 2001.
On that day, in a small the small town of Wexford in Southern Ireland, Chechnyan national Tamaev Juka disappeared. His details have been on the Police ( Garda ) website here ever since. He had only just arrived in this country a few days before his disappearance.


It would appear that honest journalism involving Chechnya and Russian 'involvement' should carry a health warning. The poisoning and subsequent death of Mr. Alexander Litvinenko has brought home to the West just how direct 'indirect' can be, such is the level of investigation by U.K. authorities into his poisoning - the anti terror unit, no less.
No country wants people who do things like this walking the streets. If any good has come of this situation, it must surely be that it demonstrates to us in the West how the loop is closing. It's easy to be philisophical when it's far away in the hills, but not so easy when it lands on the doorstep.
By Anthony Halpin
http://www.kavkaz.org.uk/eng/content/2006/11/25/6542.shtml

Guest

Guest







Similar topics
---
Permissions in this forum:
You
cannot
reply to topics in this forum