http://blogs.telegraph.co.uk/culture/harrymount/100058025/bercows-coat-of-arms-a-staggering-bit-of-showing-off/
When I saw this first in the paper edition without reading the details I immediately said that the ladder represented "social climber" - I didn't believe that in fact that is what it represents and he put it there himself!!!!!!!!
The motto beneath "All Are Equal" should have also had "But some Are More Equal Than Others"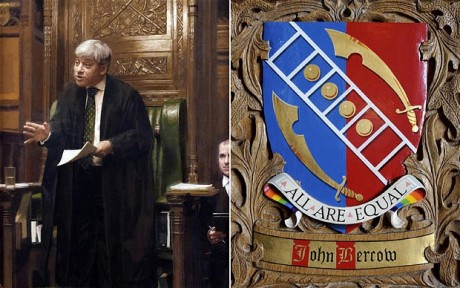 Ego rampant - Bercow's
£37,000
portrait and coat of arms (Photo: PA)
If ever you wanted an image of the adage, "the pride that apes humility", you could do worse than take a look at John Bercow's new coat of arms.
Every single aspect of it – the rainbow and pink triangles for diversity and gay rights, the ladder promoting equality, the staggeringly banal motto, the inclusion of the colours of all three main political parties – is, in theory, tremendously nice.
But that's what makes it not nice. Those who advertise their morality are rarely the most moral people in the room – that title goes to the man in the corner who would rather have you think he's a nasty piece of work than show off about his private acts of kindness.
The same pride gleams through Bercow's portrait,
paid for with £37,000 of our money.
There's the noble Speaker – gentle, fair, heroically calming down some dispute between less temperate, less gifted parliamentarians.
Such extreme claims to uberniceness are also completely empty of intrigue and quirkiness. Besides the swords of Essex and the golden tennis balls – Bercow is a qualified tennis coach – there is nothing in his coat of arms to show any inner life, or any outside interests beyond the all-conquering need to show off his niceness and fairness.
In the end, Bercow's coat of arms reveal his true colours in full Technicolor – in spite, or because, of his desperate attempts to smother it with niceness.
Tags: coat of arms, John Bercow

Angelique

Platinum Poster








Number of posts

: 3418


Location

: Freezing in England


Warning

:




Registration date :

2010-08-28



http://www.telegraph.co.uk/news/politics/8929783/John-Bercows-coat-of-arms-cost-more-than-we-thought.html

John Bercow's coat of arms cost more than we thought
When John Bercow unveiled his £37,000 official portrait complete with his personal coat of arms earlier this week he was roundly mocked for wasting taxpayers' money.


By Tim Ross, Political Correspondent6:30AM GMT 02 Dec 2011
But yesterday he faced further embarrassment after admitting that the coat of arms cost even more.
One extra bill of £5,400 was for the patent and design of the coat of arms by the College of Arms, while an additional charge of £1,600 was for "preparation of the panelled area for the coat of arms to be displayed", a spokesman for the Speaker said.
The "error" arose because the extra costs "came from other budgets". Mr Bercow's new coat of arms includes a ladder to represent how far the taxi driver's son has risen in life, four roundels to express his love of tennis, and pink triangles to signify his support for gay rights.
The portrait, by the British artist Brendan Kelly, cost £22,000. It will hang with the coat of arms in the Speaker's residence in the Palace of Westminster, alongside those of previous holders of the office.
A statement from Mr Bercow's office said the Speaker was "not aware" that the extra costs were omitted from the original figures "and in the interests of transparency wanted this clarification published as soon as the error was recognised".
RELATED ARTICLES
John Bercow unveils his £37,000 official portrait 28 Nov 2011
John Bercow raps Nick Clegg over jobs announcement 25 Nov 2011
Share:


inShare
1

Politics
News »
UK News »
Tim Ross »
IN POLITICS

Strikes in pictures

Infamous spies in history

Brodie Clark: I'm no rogue officer

PM impersonates Julia Gillard

David Cameron backs Theresa May on border control pilot


Angelique

Platinum Poster








Number of posts

: 3418


Location

: Freezing in England


Warning

:




Registration date :

2010-08-28



---
Permissions in this forum:
You
cannot
reply to topics in this forum