Missing girl, 19, found dead
By: thinkSPAIN , Sunday, August 30, 2009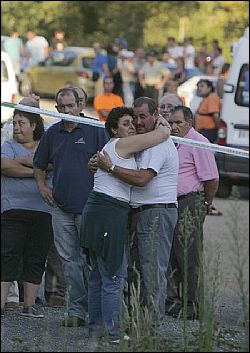 THE body of a 19-year-old girl who went missing last week in Galicia has been found following extensive searches near her home.
Police say that Laura Alonso, from Toén (Ourense) had not been seen since last Sunday after going out with friends on the Saturday night.
They found her at 18.30hrs last night in a remote area of countryside.
Officers firstly found Laura's jacket, and then her mobile telephone discarded nearby with the battery and SIM card removed.
Her car was parked close to the area on a track that is not normally used by cars.
They have not confirmed whether the body presented signs of violence, and the cause of her death remains unknown.

Guest

Guest





Former boyfriend quizzed over death of Laura, 19
By: thinkSPAIN , Monday, August 31, 2009


THE ex-boyfriend of a 19-year-old girl found dead a week after her disappearance has been taken in for questioning.

Laura Alonso's body was found on Saturday in the mountains near Toén (Ourense) where she lived.

She had gone out with friends the previous Saturday night and never returned home.

Her former boyfriend, J.C.G., 32, has been arrested in connection with her death, which police are treating as murder.

Last night, a demonstration took place in the Galicia villages of A Xestosa, where Laura was born, and continued on to Toén town hall.

Friends and family members who joined the march, seen in the photograph, in tribute to the young lady expressed their repulsion over her murder.

Toén's mayor says the 'full weight of the law' and the 'maximum sentence' will fall on the person found to be responsible for Laura's death.

Guest

Guest





THE former boyfriend of Laura Alonso, the Galicia-born teenager found dead on Saturday after being missing for a week, has confessed to her murder.

Javier Cruz García, 32, was taken in for questioning on Sunday in connection with the 19-year-old's death. Her body was found on a piece of wasteland in a remote mountainous area near her home town of Toén (Ourense).

Laura's mobile phone was discovered with the SIM card and battery removed, and her jacket and car at some distance from her body. Javier is said to have broken down and confessed under the pressure of intense questioning last night.

He was also very familiar with the area where her body was discovered.

Additionally, Laura is said to have reported him to the police in 2007, when she was 17 and he was 29, for violent behaviour towards her, but later dropped the charges when his family pressed her to do so.

The motives of the young man, who works in the A Valenzá garage, and the cause of his ex-girlfriend's death, have not yet been revealed.

http://www.bigspanishpages.com/news/laura-s-boyfriend-confesses-to-killing-her

_________________________________________________________________________________________________
\'Those who deny freedom to others deserve it not for themselves.\' Abraham Lincoln
---
Permissions in this forum:
You
cannot
reply to topics in this forum