February 14, 2000
Shelby, North Carolina
Asha Jaquilla Degree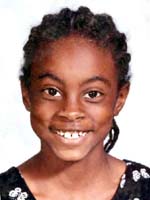 Photograph taken at age 9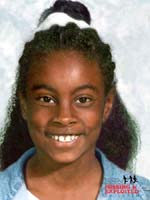 Photograph age progressed to 11 years
DESCRIPTION
Date of Birth: August 5, 1990 Place of Birth: Shelby, North Carolina
Sex: Female Hair: Black
Height: 4'6" (at the time of her disappearance) Eyes: Brown
Weight: 60 pounds (at the time of her disappearance) Race: Black
THE DETAILS
Asha Jaquilla Degree has been missing from her home in Shelby, North Carolina since February 14, 2000. Asha's father last saw her at approximately 2:30 a.m. while she was asleep in her bedroom. By dawn, her parents were unable to locate her anywhere in the house.
REMARKS
Asha Degree's black bookbag and her black pocketbook with Tweety Bird on it were missing from her room. However, these items were located a few months later.

Guest

Guest





The Charlotte Division of the FBI is bringing new attention to the case of a missing girl on the 12th anniversary of her disappearance with a multi-platform media campaign. On February 14, 2000, 9-year-old Asha Degree left her home in Shelby, North Carolina, in the middle of the night and disappeared. A combination of media publicity, digital billboards, online promotion, and the use of social media will be utilized to generate new tips to find Asha. A photo of Asha as a 9-year-old child and an age-progressed photo of what she would look like at the age of 19 will be featured on 14 Adams Outdoor Advertising digital billboards across the Charlotte area and will be sent out on various FBI social media platforms including Facebook and Twitter.

Asha's family last saw her asleep in her bedroom around 2:30 a.m. An hour and a half later, she was seen by drivers walking along North Carolina Highway 18 in Shelby, North Carolina. Her parents reported her missing by 6:30 a.m. More than a year later, Asha's book bag was discovered buried along North Carolina 18 in Burke County.

The FBI is investigating Asha's disappearance in partnership with the Cleveland County Sheriff's Office and the North Carolina State Bureau of Investigation. Additionally, the Cleveland County Sheriff's Office Cold Case Unit will be reviewing Asha's case in the near future. Anyone with information regarding this case should call FBI Charlotte at 704-672-6100 or the Cleveland County Sheriff's Office at 704-484-4787.
http://www.fbi.gov/charlotte/press-releases/2012/fbi-seeking-new-tips-in-disappearance-of-asha-degree/
- View Asha's missing person poster @:
http://www.fbi.gov/wanted/kidnap/asha-jaquilla-degree/view

---
Permissions in this forum:
You
cannot
reply to topics in this forum