April 21, 2003
Cleveland, Ohio
AMANDA BERRY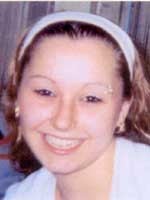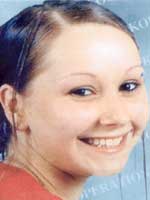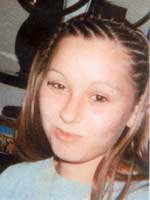 Photograph age progressed to 20 years
DESCRIPTION
Date of Birth: April 22, 1986 Place of Birth: Cleveland, Ohio
Sex: Female Hair: Sandy brown
Height: 5'1" to 5'3" Eyes: Brown
Weight: 105 pounds Race: White
THE DETAILS
Amanda Berry was last seen at approximately 7:40 p.m. on April 21, 2003, after leaving the fast food restaurant at which she was employed. The restaurant is located a few blocks from her home. Berry was 16 years of age at the time of her disappearance.
REMARKS
Berry has pierced ears, a pierced left eyebrow, and a scar on her lower abdomen.
REWARD
The FBI is offering a reward of up to $25,000 for information regarding the disappearance of Amanda Berry.
--------------------------------------------------------------------------------
Individuals with information concerning this case should take no action themselves, but instead immediately contact the nearest FBI Office or local law enforcement agency. For any possible sighting outside the United States, contact the nearest United States Embassy or Consulate.

Guest

Guest





http://www.newsnet5.com/news/7609562/detail.html
CLEVELAND -- The mother of a girl who went missing three years ago has died, NewsChannel5 reported.
Louwana Miller had been at MetroHealth Medical Center since December with various medical problems.
A family friend said Miller went into cardiac arrest Wednesday after suffering from a pancreatic illness.
Her daughter went missing while walking home from a Burger King on Lorain Avenue. The teen worked at the fast-food restaurant.
The teen has never been found.
How sad is that!!
http://stopsylvia.com/articles/montel_amandaberry.shtml
Sylvia Browne tells a mother that her missing daughter is dead.
Conclusion
Up until now, this site has only profiled Browne's "missing persons" readings when the outcome is known - the missing person has been found, whether alive or dead.
So far, in every single one of those cases, Browne has been proven substantially wrong, with few if any of her statements turning out to be correct.
But while this particular reading cannot be firmly placed into either the "Browne Was Right or "Browne Was Wrong" column, it still illustrates very poignantly that Browne's nonsense can have a dramatic negative impact.
Sometimes, Browne has given false hope, telling people that their loved one was alive when that loved one was in fact already dead.
Other times, she has taken hope away falsely, telling people that their loved one was dead when in fact the loved one was still alive.
When confronted with this list of total failures, Browne (and her supporters) often say "Nobody is right all the time," and this is certainly true, especially of Browne. At this point, I have yet to find a single verifiable case where Browne was substantially correct in a missing person or homicide case.
Given this abysmal track record, it would seem to me that Browne has to be one of three things:
1. A cold-reader, pretending to be psychic, or
2. Self-deluded, and mistakenly thinks she is psychic, or
3. An extremely bad psychic who is seldom if ever right about missing persons cases.
I firmly believe she falls into the first category. But, whichever of these she is, what business does Browne have telling the families of missing persons anything, especially that their loved one is alive or dead?
I have yet to see Browne be substantially right in one of these cases. But even if she was right 87% of the time (as she claims), how could anyone with an ounce of compassion in them tell a parent that their missing child is dead, when they really don't know for sure?
Louwana Miller may well be a tragic - if extreme - example of what that lack of compassion can do.
My thanks to QG for finding this case, and to LA for obtaining the reading transcript from LexisNexis.
I hate these bloody psychics! Making money from people's misery! (especially as she has been proven wrong, time after time).

So the poor girl's mother is now dead?? That is so sad...she never got to know the outcome of what happened to Amanda.
If Amanda is alive though, and hears of her mother's death, she may come to the funeral perhaps? I hope her relatives keep their eyes open for her...but if Amanda has died at least, and at last, mother and daughter are once more united.

Guest

Guest






---
Permissions in this forum:
You
cannot
reply to topics in this forum