5:51am UK, Sunday February 28, 2010
Alison Chung, Sky News Online
Detectives have described a suspect in the murder of a mother and her baby daughter as a "dangerous" man who "should not be approached".
Anthony Marsh, 21, has been missing since the bodies of Stephanie Bellinger, 24, and eight-month-old Lily were found in a house near Southampton.
A relative discovered the remains at a home on Myrtle Avenue, Totton, on Saturday morning.
Describing Marsh as a "murder suspect", a Hampshire Police spokesman said detectives wanted to speak to him as a "matter of urgency".
"Mr Marsh has had no contact with family or friends since the bodies were discovered by a relative just before 9am," he said.
Marsh is the partner of Ms Bellinger and father of Lily, according to reports.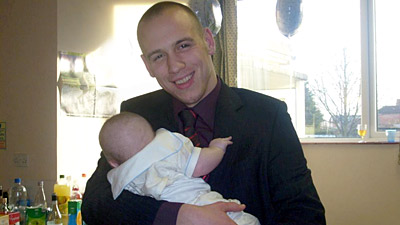 Anthony Marsh pictured with his son in 2008
He has gone missing before, visiting towns including Brighton and Plymouth, but his whereabouts remain unknown.
Police said a post-mortem would be carried out on the woman on Sunday morning and the baby on Monday.
Sky News reporter Simon Newton, who was on the scene in Totton, said forensic teams and detectives were going in and out of the house.
"Local people have reported hearing a commotion inside the house last night before waking up and finding a police presence literally on their doorstep," he said.
Neighbours who heard shouting from inside the house said they presumed it was rowdy teenagers gathered in a nearby park.
Mother-of-one Leanne Rowe, 25, said: "There was some noise about 8.30pm, a lot of shouting and then we could hear a car driving up.
"After that it was all quiet. It wasn't until this morning when we came down and saw the ambulance that we knew anything had happened.
"Lots of teenagers come through the park here so you do hear noise at weekends."
:: Police say anyone who has seen Marsh or someone matching his description should not approach him but phone 999 immediately.

Guest

Guest





The NOTW reports that there was a two-year-old boy who was found alive at the scene.

---
Permissions in this forum:
You
cannot
reply to topics in this forum