Jessie Wright Was 'Probably Strangled'
9:01pm UK, Saturday March 06, 2010
Damien Pearse, Sky News Online
A teenage girl whose body was found outside a block of flats in north London was 'probably strangled', according to an initial postmortem.
A murder investigation was launched after 16-year-old Jessie Wright was discovered in a yard next to Outram Place in Islington on Thursday afternoon.
A Metropolitan Police spokesman said a 19-year-old man, believed to be the girl's boyfriend, is being questioned.
Her family are thought to live a short distance from where the body was found.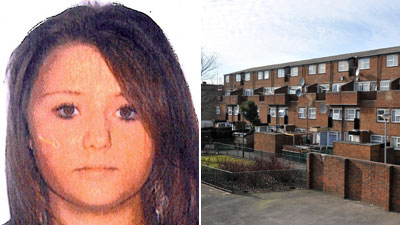 Jessie Wright was found in an alleyway
Tearful friends laid flowers and paid tribute at the scene.
One teeager said: "She was beautiful, She was a very kind and outspoken person, a bubbly girl.
"She had a heart of gold and was always happy. I cannot believe we are talking about this. I have known her since we were about 12."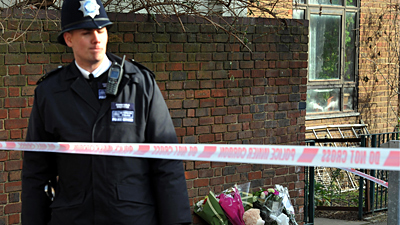 Police are keeping an open mind about the motive of the attack
Officers said they were trying to retrace Jessie's movements in the 24 hours before her body was found.
A spokeswoman said she was last seen sometime late on Wednesday afternoon or early evening.
She said: "The body was discovered by workmen who were in an area which backs on to the yard where Jessie was discovered."
:: Anyone with information is asked to call Crimestoppers, anonymously, on 0800 555 111

Guest

Guest





http://www.islingtongazette.co.uk/content/islington/gazette/news/story.aspx?brand=ISLGOnline&category=news&tBrand=northlondon24&tCategory=newsislg&itemid=WeED08%20Mar%202010%2010%3A00%3A26%3A910
Teenager charged with murder of schoolgirl Jessie Wright, 16
nlnews@archant.co.uk
08 March 2010
A TEENAGER has been charged over the death of a 16-year-old schoolgirl.
Jessie Wright was found dead in a yard by a block off flats in Outram Place off York Way, King's Cross, on Thursday.
A post mortem conducted at St Pancras Mortuary on Saturday gave the cause of death as compression to the neck.
A 19-year-old man, Zakk Sackett, is to appear at Highbury Corner Magistrates' Court today (Monday) charged with Jessie's murder.
Dozens of bouquets have been left in Outram Place in tribute to Jessie, a pupil of Maria Fidelis Convent School, in Phoenix Road, Somers Town, who was described as a "fun, outgoing, friendly" person.
One tribute read: "To Jess, I can't believe ur gone babe, was only gossiping with you last week. Your in heaven now princess. Hope u like it where nobody can hurt you. I love you babe, Stevie xx"
Another read: "To Jessie Elouise Wright. We miss you so much. Can't believe this has happened. We love you so much. Love Georgie and family."
A stream of friends and relatives have also visited the spot, which is on the Delhi Outram Estate, to remember the schoolgirl – who is believed to have lived on the nearby Bemerton Estate off Caledonian Road, Islington, with her grandmother.
Aunt Carla Wright said: "My brother's going through hell. I feel like this isn't happening. She was a beautiful young girl who had her life taken away from her.
"She was very bubbly. She was a happy girl. She was my niece."
Another aunt said: "She was a beautiful young girl who has had her life taken away from her. We are in bits. We are still thinking it's not real.
"We only found out on Friday afternoon. My dad phoned me and said to come home because he needed to talk to me. We are all devastated."
Friends described Jessie as a popular schoolgirl who loved hanging around with fellow teenagers – but said that they did not know if she had a boyfriend.
Madeline Moloney, 15, said: "We were really good friends. If she had an argument with her nan or her mum, she'd always come to me. She was just always there.
"She was really funny and she was always laughing. She loved R'n'B music. She knew how to liven things up.
"We would just hang around her house watching DVDs, doing normal things like that."
Another friend, 18-year-old Gina, said: "She was like my little cousin. We grew up together here since we were babies. I love her so much and I miss her so much.
"She really was the best, friendliest, most outgoing person. She was always there for other people. She was a lovely girl.
"She used to love going out. Her favourite place was The Opera House nightclub in Tottenham.
"I heard what happened on Friday morning. I didn't know what to do. I just couldn't believe it."
A third friend, also 18, added: "Jessie was a fun, outgoing, friendly person. She was always up for a laugh. She was very popular and had lots of friends. She was a party girl – but I don't know if she had a boyfriend.
"We are so shocked and upset. She has gone too young. She didn't deserve this."

_________________________________________________________________________________________________
\'Those who deny freedom to others deserve it not for themselves.\' Abraham Lincoln

---
Permissions in this forum:
You
cannot
reply to topics in this forum