.Have You Seen DaJah Johnson ?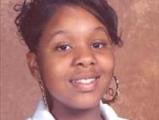 Case Type: Endangered Missing
Missing Date: Friday 26th February 2010
Missing From: Baltimore Maryland
Missing Country: USA
Sex: Female
DOB: Currently unknown
Specific Details:Hair: Dark Eye Color: n/a
Height: 4'11" Weight: 180lbs
Race: Black language: n/a
Special Facts:
Known Circumstances: Baltimore City police are searching for a 14 year old girl who has not been seen since Friday evening.
DaJah Johnson, was last seen around 5:30pm on Friday by her mother at their N. Bethel Street home.
Johnson is a black female, 14 years old, 4'11 and weighing approximately 180 pounds.
There is no clothing description and no likely destination.
Police ask anyone who sees the girl or might have information to contact the Baltimore Police Department at 911 or the Missing Persons Unit at 443-984-7385.

Guest

Guest





Clues Sought In Search For Missing Girl, 14
Teen's Mom Fears She Was Lured By Online Friend


BALTIMORE -- Baltimore city police are searching for a 14-year-old girl.

The mother of Dajah Johnson said she last saw her daughter Friday night at their home in the 100 block of Bethel Street.

Katherine Minor-Johnson said her daughter spends a lot of time on social networking sites, and she fears Dajah Johnson may have been lured by someone she met online.

"That's where the majority of her friends are," she said of sites like Facebook and MySpace, "which leaves us as parents not really knowing all her friends."

Anyone with information is asked to call police.

Guest

Guest







Similar topics
---
Permissions in this forum:
You
cannot
reply to topics in this forum