Notes left behind: The heartbreaking messages a six-year-old cancer victim hid for her family to find after she died
By Mail Foreign Service
"WHEN SHE COULD NO LONGER SPEAK SHE SPOKE WITH HER PENCILS AND PENS"
These are the heartbreaking notes a six-year-old cancer victim hid for her family to find after she died.
Elena Desserich was diagnosed with inoperable brain cancer when she was just five years old.
During her nine-month struggle with the illness, Elena, from Wyoming, hid hundreds of notes between the pages of books, in cupboards, drawers, bags, and clothes stashed away for the winter.
Elena with her little sister at Christmas in 2005, before her heartbreaking diagnosis
One of the pictures hidden by Elena in the last nine months of her short life
She died in August 2007 - but her parents Keith, 34, and Brooke, 35, and her younger sister Gracie, who was five at the time, say they have been finding the notes and drawings she left behind ever since.
'We found the first ones a few days after she died,' said Mr Desserich, who runs a construction company.
'But then they kept on showing up everywhere and now we have three large boxes full of them.
'We even found them in the bags of Christmas decorations.'
Now Elena's family have put a collection of the touching messages together with diary entries they made during her struggle in a book, Notes Left Behind.
All proceeds from the book will go to cancer research
When little Elena was diagnosed with the rare and terminal form of paediatric brain cancer in 2006, her parents were told she had just 135 days to live.
The distraught couple vowed to make each moment special for Elena and her sister Gracie, then four.
'We wanted to protect her so we never told her she might not make it,' said Mr Desserich.
'We didn't want to focus on the cancer, we wanted to focus on being a family and doing all the things that Elena wanted to do.'
Mr and Mrs Desserich were worried Gracie might grow up and not remember Elena, so they began to write a journal about their kind little girl who loved books and art.
The Desserich Family pose for a portrait just after elena was given 135 days to live.
'She was a wonderful little girl,' said Mr Desserich. 'She loved books, they were her passion. She said she wanted to grow up to be a teacher and a mother.
'She loved to nurture people and she was always so bright.'
While the Desserichs were forming their own tribute, Elena was secretly writing notes and tucking them away in nooks and crannies in her house and the houses of relatives.
'She was a child who was wise beyond her years,' said Mr Desserich. 'I hate to think she knew she was dying but I think she did.'
'I think the notes were her way of telling us that everything would be OK,' added Mrs Desserich. 'It feels like a hug from her every time we find one.'
Despite a month of radiation therapy, Elena's condition deteriorated rapidly. She lost the ability to speak and gradually became paralysed.
But the brave child would not be silenced. She continued to hide the love notes and drawings for her mother, father, sister, grandparents and her favourite dog Sally, who belonged to her auntie.
Some read simply 'I love you' or have pictures of hearts and flowers.
Many are addressed for Gracie and one reads 'I love you Gracie, Go Go.'
'We don't ever want to find the last note,' said Mr Desserich. 'I hope we keep on finding them for years to come.'
In fact, both parents have saved one unopened note from Elena which they carry with them in their briefcases.
'It's our way of saving the last note,' said Mrs Desserich.
The Desserichs have published the notes as a tribute to Elena and to help Gracie remember her big sister.
All proceeds from the book are going to the Cure Starts Now Cancer Foundation, one of the only charities dedicated to finding a unified cure for all forms of cancer.
Elena's Legacy: The family have published Elena's notes in a book to raise money for cancer research
Learn more about Elena and her cause at www.notesleftbehind.com

Guest

Guest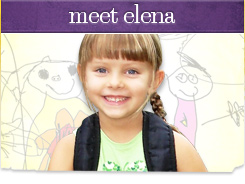 Excerpt from the website:
This is the story of a six-year-old girl named Elena. In her last days, she showed a community how to love and how to live. Written through the eyes of her parents, Brooke and Keith Desserich, as a remembrance for her younger sister, her daily story tells one of humility and inspiration as she lives each day, one at a time. In her short time, she painted a masterpiece that would hang in an art museum, accomplished a truly spectacular series of wishes that she alone created and inspired a cause that continues today to help children everywhere in their fight against brain cancer.This is Our Elena...
•She always eats her vegetables first.
•She can never wear enough pink.
•She always writes her name backwards—not because she doesn't know how to write it, but because she "just likes the way it looks."
•She crosses her legs when she sits.
•There is nothing better than art class, except, of course, a trip to the library.
•Fiction is better than nonfiction.
•Skip the pop, give her milk. And pour it in a wineglass and say "cheers."
•She loves "squibble-squabbles" (lace and ruffles).
•Tights are best when in jungle patterns or polka dots.
•No pants, only dresses.
•She loves babies.
•When you play school, she is always the teacher.
•Mom is best for cuddling.
•Sally (a grumpy old Chihuahua) is the best pet she never had.
•You can never have enough headbands.
•All she ever wants in life is to be a mom.
She is simple. She is our Elena.

She "likes the way it looks"..............
Learn more about Elena and her cause at www.notesleftbehind.com

Guest

Guest






---
Permissions in this forum:
You
cannot
reply to topics in this forum