Walker County Jane Doe - TXF801101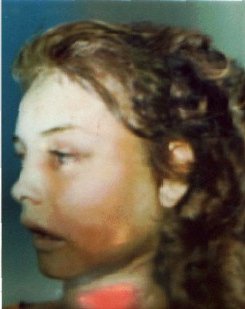 --------------------------------------------------------------------------------
Information
Date Found:
1st November 1980
Location:
Walker County, Texas
Condition of Remains
Died within 24 hours
Race:
White
Estimated Age:
15 - 20
Approximate Height:
5ft 6in
Approximate Weight:
100lb
Clothing:
None
Jewellry:
Thin gold chain with a smoky stone attached
Eye Colour:
Hazel
Hair Colour:
Brown
Tattoo's/Identifying Features:
Her toenails were painted pink
Forensics Availability
Unknown
Agency Case Number
Unknown
Porchlight Case Number:
TXF801101
--------------------------------------------------------------------------------
Case Details
Walker County Jane Doe was found lying face down and nude by a truck driver on November 1, 1980 near the Sam Houston National Forest in Walker County Texas. This is about a half mile south of the FM 1696 exit near Huntsville.
The victim, an attractive young teenage girl, had been savagely beaten and sexually assaulted before dying by slow strangulation. Her face and body were covered with bruises from the beating and there was a human bite mark on her back near her right shoulder. The autopsy revealed she had been sexually assaulted with a blunt instrument.
When the murder was reported, several people came forward and said they'd seen a teenager matching her description the day before her body was found. One witness, the manager of a gas station which no longer exists, positively identified the victim as a girl who had been at the station around 6:30 p.m. Halloween night asking for directions to the Ellis prison unit. She was wearing blue jeans, a yellow pullover sweater with big pockets that hung below her waist, and carrying high-heeled sandals in her hand. To the best of his recollection, she had been let out of a 1973 or 74 blue Chevrolet, possibly a Caprice, with a lighter colored top, which was being driven by a white male. She looked disheveled like she had been traveling and perhaps sleeping in her clothes. She left the station, walking north on Sam Houston avenue.
A waitress working at the Hitchin Post truck stop out on Interstate 45 said the girl came into the restaurant the same evening and again, asked for directions to the Ellis Unit, saying she had a friend there. A map was drawn for her and she departed. She never reached the Ellis Unit and she was never seen alive again.
--------------------------------------------------------------------------------
Investigating Agency
Please Contact
Lt. Perkins
Walker Co. Sheriff's office
Huntsville, Texas
936-435-2406

Guest

Guest





---
Permissions in this forum:
You
cannot
reply to topics in this forum