Again thanks to Claudia!!!! :Hugs:
Comments on her page:
20 comentários:
Niza disse...
Claudia, is there photo of Amy? I think I see somewhere long time ago photo, but not remember how she look. If someone have picture might be very helpful.
16 de Agosto de 2008 17:20
Cláudia disse...
Niza, I just published one. Couldn't access it, but solved the problem now. Will try to add some useful e-mail addresses.
16 de Agosto de 2008 17:26
Niza disse...
Claudia, you think it ok I send e-mail to all my contacts with her photo? Maybe someone seee her when on holiday
16 de Agosto de 2008 17:29
Cláudia disse...
Of course, Niza.
That is the why we're doing this.
The more, the better! :-)
Thank you.
16 de Agosto de 2008 17:37
Niza disse...
Not fair some children get alot of attention others not. Not matter if British, Irish, African, Portuguese or Chinese all children must be with families not disappeared
16 de Agosto de 2008 17:38
Cláudia disse...
You're right. Niza.
But most parents of a missing child do not speak to their Prime Ministers on the phone, nor do they have PRs, private detectives, funds and millionaire supporters. Remember Filomena Teixeira? Everytime I look at that woman I can't control my tears.
16 de Agosto de 2008 17:43
Anónimo disse...
Claudia
Não tenho palavras para te agradecer
Bjos
Paula
16 de Agosto de 2008 17:45
Niza disse...
Filomena Teixeira is a hero. I not know how she manage to go on after so much pain. I wish that Rui Pedro could be found and helped. That family suffer so much.
16 de Agosto de 2008 17:46
Cláudia disse...
Paulinha, não há nada para agradecer. É uma obrigação moral.
Beijos!
16 de Agosto de 2008 17:52
Cláudia disse...
Niza, to be honest, Filomena leaves me speechless. I was a teenager when Rui Pedro disappeared but from the beginning that case has touched me in an undescribable way.
16 de Agosto de 2008 17:53
Anónimo disse...
Great idea!
16 de Agosto de 2008 18:55
Cláudia disse...
Thank you, anon. But the idea was not mine.
16 de Agosto de 2008 18:56
Nana disse...
Any decent human being has a duty to protect and help any children who has his/her rights taken away.
Thanks for the useful e-mails addresses. Yes, each and everyone of us can make a difference.
Let's help Amy's family.
16 de Agosto de 2008 19:15
Cláudia disse...
You are absolutely right, Nana.
Thank you for contributing.
xxxx
16 de Agosto de 2008 19:22
Anónimo disse...
Claudia, I respect your efforts to help this famlily to find there daughter Amy. But did you know Clarence Mitchell is already in contact with this family? See this article:
http://gazetadigitalmadeleinecase.blogspot.com/2008/06/whos-boss.html
posted by Paulo Reis.
Great site you have Claudia, with a heart at the right place. Best wishes to you!
16 de Agosto de 2008 19:47
Cláudia disse...
Thank you, anonymous.
Yes, I know that Clarence Mitchell has spoken to Amy's family. However, since I don't see Amy's story in the covers of UK's newspapers and magazines, since I don't see any celebrities offering their help to Amy's family, since I'm not aware of any rich backers offering to support Amy's mother I suppose Mr Mitchell is too busy spinning and making damage control in the McCann case. But then again, there's no Find Amy Fund here, which might explain Mr Mitchell's failure to put this story in the front pages.
16 de Agosto de 2008 20:07
Anónimo disse...
Thanks for your reply Claudia, indeed, he is to busy spinning. May be some editors your mentioned can ask Mr Mitchell what he is doing about the missing Amy? By the way, he is thinking of making a PR-job about missing childeren.
http://www.telegraph.co.uk/news/newstopics/mandrake/2402106/Mandrake-Madeleine-McCanns-spokesman-Clarence-Mitchell-ponders-PR-move.html
So, let's hear it al your editors, what about other missing childeren, and for example Amy Fitzpatrick. No child, rich or poor, should be missing, never. Do not fill your papers only with Madeleine, that is not right and not fair.(focus on her parents and there friends wood be better).
Best regards. :)
16 de Agosto de 2008 20:57
Cláudia disse...
Anon, I don't think the editors will ask Mr Mitchell any questions because I believe their take orders. And most of them lack a backbone. As for the pink one working for missing children, I'm sure it's a question of numbers.
16 de Agosto de 2008 21:36
Anónimo disse...
Also guys don't forget about Amy's father Christopher & aunt who is also fighting for a European alert system and have already delivered 27,000 signatures to the Irish Govnerment to sign online please visit
http://www.ipetitions.com/petition/AMBERALERTNOW/index.html
His website is
www.searchforamy.com
www.bebo.com/helpfinda
17 de Agosto de 2008 12:20
Cláudia disse...
Anon, thanks. I will put the links on the thread.
17 de Agosto de 2008 13:14
Enviar um comentário
The lucie Blackman trust is assisting Audrey and Dave with thir search for Amy.
They have set up a 24 hour hotline for people to contact should they have any information regarding Amy's disappearence or whereabouts the numbers are on the poster below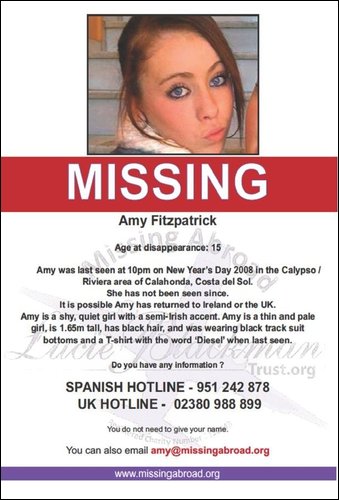 There is also an appeal from Baaba Maal appealing directly to the public for help for Amy

Guest

Guest





This is great news!!!
These guys are good. They Sent out a press release earlier today and they are getting phonecalls to get Amy's information put in papers all over the Uk. One media organisation has it up online already. I will post it later on when I'm on my pc.

Guest

Guest





http://www.communitynewswire.press.net/article.jsp?id=6041170
SOCIAL Missing, 14 Aug 2009 - 16:17
The family of a 17-year-old girl, who went missing near her home in Spain in 2008, has extended the search for her to British shores.
Amy Fitzpatrick left her friend's house in Mijas Costa, in Spain, at 10pm on New Year's Day 2008.
The teenager should have arrived at her home on the Riviera del Sol in Mijas Costa, near Fuengirola, about 10 minutes later, as it was only a short walk away, but she never arrived home and has not been heard from or seen since that night.
It is thought that Amy could now be in England and her family are desperate for any information.
The Lucie Blackman Trust is providing, free of charge, a number of 24-hour message hotlines both in UK and overseas where people can leave information, anonymously if they wish, as part of its Missing Abroad project.
The project specialises in helping families with loved ones missing overseas and has successfully reunited a number of families.
Amy was 15 at the time of her disappearance. She has black hair, which could be dyed blonde, blue eyes and a pale complexion. She was 1.65m tall when she went missing and was wearing dark coloured crushed velvet tracksuit bottoms and a black T-shirt with the word "Diesel" in various different colours when she was last seen.
Several of Amy's friends have moved back to the UK and the family urge anyone who knows anything to get in touch.
Amy's mother Audrey said: "We have not given up hope that new information will come to light, despite the time elapsed.
"We are calling on the public to provide information. It could be residents in the area, it could be anyone who was on holiday there at the time, it could be anyone at all.
"Please keep your ears and eyes open. Please send us any information you have no matter how insignificant it may seem. There has to be one person somewhere who knows something."
The charity's operations manager Matt Searle said: "One of the most important things in cases such as this is giving people the ability to pass on any information they have.
"People often think they may have seen something but think it is insignificant. We ask anyone with any information, however small it seems, or possible sightings to call the anonymous hotline."
People with any information can call 02380 988899 in the UK in confidence and leave a message. Alternatively emails can be sent to
amy@missingabroad.org
. To download a missing persons poster go to
www.lucieblackmantrust.org.
The Lucie Blackman Trust is a charity that promotes personal safety. It was set up in memory of Lucie Blackman who was killed in Japan in 2000, aged 21.

Guest

Guest





http://www.foreversearching.com
FOREVER SEARCHING HAVE DONE SO MUCH TO KEEP AMY'S FACE IN THE PUBLIC EYE, APART FROM HELPING TO FIND AMY THEY ASSIST MANY OTHER FAMILIES TO FIND THEIR KIDS TOO.

Guest

Guest





Information removed at the request of helpfindmychild

Guest

Guest





Similar topics
---
Permissions in this forum:
You
cannot
reply to topics in this forum