Pearl Rose Gavaghan Da Massa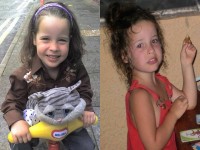 Pearl is the victim of a parental abduction. Pearl was last seen at her nursery school on December 1, 2008 when she was picked up by her mother Helen Gavaghan (aka Meta International; Dana Flaherty)
It has been confirmed that mother and child flew from the UK to Mexico on December 9, 2008. It has also been confirmed that they subsequently entered the US via land crossing at Laredo, Texas on December 30, 2008.
There has been a recent sighting of them in Toronto, Ontario, under the names Dana and Belle Flaherty.
The Manchester Police Service have issued a warrant for their return to the UK.
Interpol have issued a YELLOW ALERT. F-289/7-2009
Missing From CHORLTON, Manchester, United Kingdom
Date of Birth 6 April 2004
Date went Missing 9 December 2008
Colour of Hair Brown curly hair
Colour of eyes Green/Brown (Hazel)
Ethnic Appearance White
Nickname AKA - Belle Flaherty
Identifying Characteristics Scar beneath lower lip shaped ^
Investigating Police Force Greater Manchester Police
Contact details In the United Kingdom :
Contact Greater Manchester Police South Manchester CID on (+44) 0161 856 4843
Crimestoppers on 0800 555 111 (anonymous freephone number)
Missing Kids UK on 0808-100 8777 quoting reference UK02UK0209GMP00199
In Canada
Contact Toronto Police Service Public Information Desk on (+001) 416 808 7090
or Crimestoppers on 1-800-222-TIPS (anonymous toll-free number)
or Child Find Ontario on 1-800-387-7962 quoting reference 5625-P (confidential toll-free)
Dedicated Website
http://missingpearl.org/
Facebook Group
http://www.facebook.com/home.php#!/profile.php?id=100001708849631
Print poster
http://www.foreversearching.com/wp-content/uploads/2011/03/FLYER-PEARL-DA-MASSA.pdf

milly

Administrator








Number of posts

: 1607


Age

: 45


Location

: Ireland


Warning

:




Registration date :

2011-10-03



Pearl Rose GAVAGHAN DA MASSA
ABDUCTED FROM MANCHESTER ENGLAND 9TH DECEMBER 2008 RECOVERED 26TH SEPTEMBER 2011
http://missingpearl.org/

milly

Administrator








Number of posts

: 1607


Age

: 45


Location

: Ireland


Warning

:




Registration date :

2011-10-03





Similar topics
---
Permissions in this forum:
You
cannot
reply to topics in this forum