Thursday November 27 2008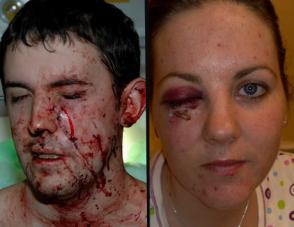 These two gardai portray the horror of violence against members of the force on our streets.
Bridewell officer Jeffrey White and colleague Helena Power from Clonmel both suffered terrible injuries at the hands of assailants.
Today the force's magazine, Garda Review reported an 84pc rise in assaults on officers in the last three years. Assaults with serious injury jumped by 113pc.
Members of the force now want stricter sentencing for those who attack gardai which they describe as "a direct assault on our society".
Officers feel their power to prevent attacks on themselves and their colleagues has been neutralised by legislation which has skewed the balance between accountablity and effectiveness.
"These incidents carry a clear risk of personal injury," said Damien McCarthy, vice-president of the Garda Representative Association.
Some people in our modern world have no respect for people or personal property – and certainly not for the gardai, who protect them."
"Policing is a unique job. Gardai must protect the public effectively and they must stand their ground in the face of danger," he says in the magazine.
"The potential for violence and confrontation is ever present when dealing with the unpredictability of human behaviour; frequently affected by drink or drugs."
He stressed that although the number of assaults on gardai have been steadily increasing, this has not been headline news.
"It is in danger of being seen as an occupational hazard whereas an assault on a garda is an assault on Irish society and our communities," he said.
Many of the attacks go unreported and the public are unaware of the degree of violence used against their unarmed protectors, according the current issue of the Garda Review.
"Stricter sentencing for those who assault members of the gardai has always been an option open for the legislators but it has not been affected," says the Review.
"If as a society we want to retain an unarmed force then we must also consider protecting the gardai through a combination of stricter sentencing and a shift in balance away from the rising culture of unaccountability."
The Review says many members of the Force "commonly report that they would prefer to accept an assault rather than draw their baton to defend themselves. This is a direct result of the fear and stress of the resulting investigation into their conduct.
"In short it is better to do nothing than to make a mistake in the heat of a violent assault."
It has become routine for more members to be assaulted than the number of arrests made, the article adds, pointing to the riotous behaviour in Clonmel on Halloween night when five members were injured and only two arrests made.
Too many gardai are on sick leave as a result of serious assaults. "Members must be empowered to police the streets," it says.
New equipment has been shown in other countries to dramatically reduce the number of injuries suffered by police.
"The introduction of anti-stab vests incapacitant spray and a modern asp baton go some way towards this, but there are other tools such as rigid-linked handcuffs, velcro restraint straps as well as cut and pucture resistant gloves that also need to be considered," the Review says.

Guest

Guest





Looks like they need to take safety measures fast on this issue

Guest

Guest





They are in Ireland. Nothing will be done. The justice system over here is a JOKE

Guest

Guest





84% rise in assaults???? My goodness! That is a HUGE rise! This needs to be addressed immediately.

Guest

Guest






---
Permissions in this forum:
You
cannot
reply to topics in this forum