Christopher Robin
"Chris" Coan
Missing since 9/3/2007
Cedar City, Utah
Vehicle
1994 Chevy Blazer S10
Maroon/Burgundy & Silver
Temporary License.
There were Several Stickers on the back to include: Greatful Dead, Jerry Bear, and The Wizz.
Similar to the vehicle he was driving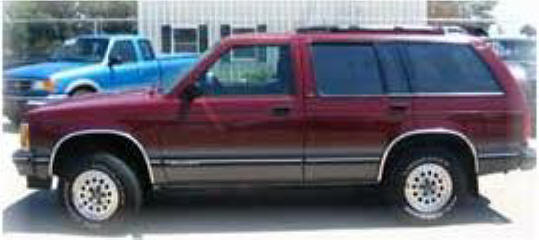 Circumstance:
Chris was last seen leaving work at the Subway Sandwich shop in Cedar City, Utah on the evening of September 3, 2007.
He was wearing a green T-shirt under subway uniform shirt & black corduroy pants.
He never returned home and no one has seen or heard from him since.
There was no obvious signs of depression or undue stress that would cause Chris to leave abruptly.
Last edited by Antoinette on Fri 10 Apr - 10:19; edited 1 time in total

Guest

Guest






Guest

Guest





View Delilah's blog
I am so deeply sad to report that Chris Coan has been found. According to reports from a link that Joanne sent to me, Christopher Coan was found outside of his truck at the scene of an accident. He has been missing since September, 2007 and I'm sure his family will need all the prayers we can give to them.
May they find peace of mind and healing hearts.
Body of missing man found
April 9th, 2009 @ 5:28pm
By Alex Cabrero
CEDAR CITY -- Missing for a year and a half, the body of 18-year-old Enoch resident Chris Coan was found Thursday morning near Cedar City.
According to Enoch Police Chief David Browning, Chris' body was found outside his truck by a search and rescue team located in a Cedar City canyon.
KSL 5 News spoke to Chris' father, David Coan, by phone Thursday afternoon. He's obviously very emotional after hearing about his son, but at the same time he said he's relieved to finally have an answer as to what happened to his boy.
Chris was last seen on September 3rd, 2007, working at a Subway restaurant in Enoch. He seemed to have disappeared until Iron County resident Rex Rushton stumbled upon the accident scene Wednesday night.
Rushton was walking his dogs near Right Hand Canyon when one of his dogs started running away from him. He followed his dog through thick brush and snow for about an hour when he found his dog and a pickup truck he recognized from missing person's fliers posted throughout town. He then called police.
Thursday morning, a search and rescue team went back to the area, found the pickup truck and then found Chris' body outside the truck. Chief Browning believes Chris lost control of his truck while driving in the canyon and rolled to the bottom.
Browning says this had been a case where they've followed hundreds, if not thousands, of leads in the past year and a half. It's taken them from New Mexico, and even to Canada. If nothing else, he's happy Chris' family finally has an answer.
http://www.ksl.com/?nid=148&sid=6110689
There is a video at the link.

Guest

Guest





How sad for the family to recieve this news but also now they have closure and can lay him to rest.
RIP Christopher x

Guest

Guest





RIP in Chris

Guest

Guest






lubelle

Platinum Poster








Number of posts

: 1405


Age

: 49


Warning

:




Registration date :

2008-07-24





Similar topics
---
Permissions in this forum:
You
cannot
reply to topics in this forum