Thursday, 02 July 2009 12:22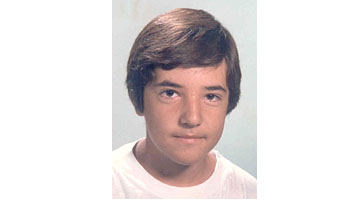 Alleged sightings in Portugal only led to dead ends
By Jennifer Leighfield
ONE of Spainís most famous and strange stories of disappearance occurred in Malaga, in 1987. It is the story of David Guerrero Guevara, a lonely and introverted 14 year old who showed an extraordinary ability for painting and drawing. David lived with his parents and brother in a flat in Calle Sargento Garcia, in Malaga city. He had very few friends, didnít like to go out to play and preferred to spend his time indoors painting.
He was not a problematic child, and did not believe that his talent was anything special. Young David had painted an image of Christ which was to be exhibited as part of an Easter exhibition at La Maison Gallery, which he was overjoyed about, according to his family and teachers.
On the morning of his disappearance, David had been to school as normal. The teachers at the Divino Pastor School said they noticed nothing wrong, although he had told one of his classmates that his head and stomach ached and he wasnít going to eat his sandwich. Before leaving home that afternoon, he again refused a sandwich his mother offered him, which surprised her as he usually ate quite a lot. Instead, he ate a yoghourt and left.
At 6pm on April 6, 1987, David left his house to go to the bus stop which was just 100 metres away, having said he intended to visit the inauguration of the exhibition. He was carrying a denim rucksack with painting utensils, his school card and bus card. He never made it to the exhibition and didnít return home that night. He has not been heard from since.
Police and volunteers searched for him but no trace was ever found. Friends and family were questioned to no avail. The fact that he was never seen at the bus stop or on the bus, made police believe he may have lied to his parents and never intended to go to the exhibition. He may have planned to meet someone. That same afternoon, Queen Sofia was visiting Malaga, quite close to Davidís home, therefore, there was a high police presence, both in uniform and plain clothes, which makes it improbable that someone could have simply abducted him in the street.
Police believe that someone may have befriended David and convinced him to leave home. The theory is that he may have been taken by a network of art forgers who discovered his talent and wanted to take advantage of it.
There was one suspect, a 70-year-old Swiss man who stayed at a hotel in Malaga between March and April 1987. A woman working at the hotel claimed to have seen him with David. A caricature of a man resembling the suspect was found in Davidís room. Everything pointed to Switzerland and the police followed the trace. Again it was a dead end, there was no evidence of kidnapping and no sign of David. The suspect, who had a high economic status, was divorced and had several children, died in 1990.
On another occasion, police were led to Lisbon, where sightings of David had been reported.It was said that David may have gone into hiding after all the publicity in the Portuguese press, but several people reported having seen him in the streets of Lisbon with two others boys of the same age. Others claimed to have seen him painting in one of the cityís main squares, and on a train which travelled between Lisbon and Irun, in the Basque country.
Despite all these alleged sightings, the Spanish police returned no further forward in the investigation than they had been before. And more than 20 years on, there is still nothing to explain how the boy just vanished. If David is still alive, he would now be 36. His family still keep his works of art and have not given up hope that someday, he will be found.
Last edited by Antoinette on Wed 23 Dec - 23:34; edited 1 time in total

Guest

Guest





What a shame. There is no hope in hell this boy can still be alive

Guest

Guest





[quote="SharonS"]What a shame. There is no hope in hell this boy can still be alive
[/quote
never say never. There is always hope that he is still alive and until his body is found his family will live in the hope that he is alive.

Guest

Guest







Similar topics
---
Permissions in this forum:
You
cannot
reply to topics in this forum