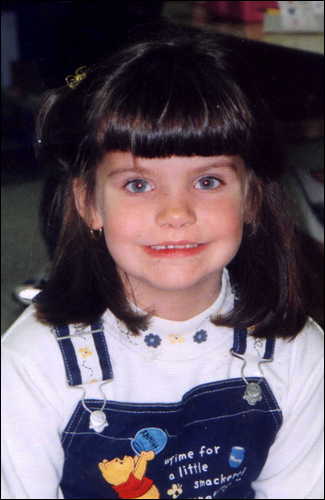 Recently discovered skeletal remains have been identified as those of a 6-year-old who was abducted near her grandparents'home five years ago, a medical examiner said Monday.
DNA testing confirmed the remains were those of Opal Jennings, who was abducted in March 1999. She died from a blow to the head, the medical examiner's office said.
Horseback riders found part of a skull on Dec. 30, about 10 miles from Opal's grandparents' home in Saginaw, northwest of Fort Worth.
Authorities later found more bone fragments and a pair of pink Barbie tennis shoes similar to those Opal was wearing when she disappeared.
Richard Lee Franks of Fort Worth was convicted of aggravated kidnapping in the case in 2000 and was sentenced to life in prison. He maintained his innocence, claiming he suffered from a low IQ and was coerced into a confession.
The Tarrant County District Attorney's Office did not immediately return calls seeking comment Monday on whether Franks would face additional charges

Guest

Guest






Guest

Guest





Richard Lee "Ricky" Franks was arrested and charged with aggravated kidnaping and indecency with a child after admitting to authorities that he abducted six-year-old Opal Jennings.
Police say Opal was taken on March 26, 1999 from her home in Saginaw, Texas. At around 5:30 that evening, Opal was in her front yard playing with two other children when a man got out of his car, walked over to the group and grabbed Opal. Police say the man put the six-year-old in the front seat of his car and drove away.
The abductor was described to police as a white or Hispanic male with dark shoulder length hair, pulled into a ponytail. The suspect's car was described to police as a dark colored, possibly a Chrysler or Plymouth model.
The initial tip on Franks came from his probation officer. Police say the officer noticed in an April 1st probation meeting that Franks had cut his hair. The officer also noticed he was driving a car that matched the description of Opal's abductor. Frank's probation officer told the cops.
But by the time the information made its way to the investigating officers in the case, it was one of many leads. With the detectives from Saginaw forging through hundreds of leads, the Franks tip was not checked into for weeks.
Ultimately, when the cops noticed the similarities in Franks and the abductor, and that he had a criminal record, he became a suspect. To get him into custody so the officers could start their interrogation, Franks was picked up on an outstanding traffic warrant on August 17, 1999.
When he was questioned, Franks admitted that he was the man that took Opal from her front yard, but said that the six-year-old went with him willingly. Franks also told police that Opal attempted to initiate sexual contact with him.
Police and FBI searched for any trace of Opal around Franks' house and car and several areas around Saginaw. Franks is currently being held in the Tarrant County Jail in Fort Worth on a $1.5 million bond.

Guest

Guest






---
Permissions in this forum:
You
cannot
reply to topics in this forum