May 2, 1995
Spanish Fork, Utah
KIPLYN DAVIS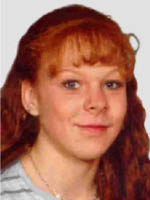 Photograph age progressed to 19 years
DESCRIPTION
Date of Birth: July 1, 1979 Place of Birth: Utah
Sex: Female Hair: Red (naturally curly)
Height: 5'3" Eyes: Light Blue
Weight: 110 pounds Race: White
THE DETAILS
Kiplyn Davis was last seen on May 2, 1995, at her high school in Spanish Fork, Utah. She is known to have attended morning classes and was seen at lunchtime while eating with friends. However, Davis did not show up for her fourth and fifth period classes. All of her personal belongings and books were found in her school locker.
REMARKS
Kiplyn Davis was last seen wearing a long-sleeved, off-white t-shirt with a beige stripe; a blue denim vest with a small tag reading ENUF on the side; blue denim shorts (brand name Bum Equipment); white sandals with three straps on the front and two around the heel with cork soles (brand name Colorado); a Guess brand watch with a large face trimmed in silver with a black leather band; two sterling silver rings (one was a band with a flower pattern and one had the initials CTR with flowers on each side of the initials); royal blue underwear; and a white Hanes brand bra.
Davis has pierced ears and may wear a lower dental retainer.
--------------------------------------------------------------------------------
Individuals with information concerning this case should take no action themselves, but instead immediately contact the nearest FBI Office or local law enforcement agency. For any possible sighting outside the United States, contact the nearest United States Embassy or Consulate.
[ Salt Lake City Field Office ] [ Kidnapping and Missing Persons Investigations ]

Guest

Guest





Christopher Neal Jeppson's attorneys maintain he is an innocent man, but he will now have some closure by pleading no contest to an obstruction of justice charge in the disappearance of Kiplyn Davis in 1995.

Jeppson, who was set to go on trial for murder in less than a month, reached a plea agreement with prosecutors Wednesday. In exchange for Jeppson's plea to the second-degree felony, prosecutors agreed to reduce the charge to a third-degree felony and recommend a zero-to-five-year sentence concurrent with Jeppson's five-year perjury sentence in federal court. Jeppson's attorney, Scott C. Williams, said Jeppson never lied about the case, though prosecutors say he gave false information to investigators.

"His explanation is that he believes [his testimony] is accurate," Williams said. "That's why this is a no contest plea."

Jeppson signed an affidavit in front of the judge saying he has no knowledge of or involvement in the disappearance of Kiplyn Davis, who disappeared at the age of 15 from Spanish Fork High School on May 2, 1995. Timmy Brent Olsen is charged with murder in the case and has also been convicted of perjury in federal court.

Williams said the affidavit was signed for the prosecution, as it prevents Jeppson from confessing to murder in the future. There is no agreement for Jeppson to testify against Olsen, because he knows nothing about what happened, Williams said.

"I don't see why he'd be subpoenaed, because he has no knowledge," he said.

Prosecutor Mariane O'Bryant, however, said she does not know that Jeppson's statement is entirely accurate. He may know something about what happened, she said, but prosecutors weighed their evidence and worked out a deal with defense attorneys. Prosecutors now have a resolution, she said, which is never a guarantee in front of a jury. Jeppson will also have no credit for time served, she said.

"We got some and we lost some," she said.

Although Jeppson will not get credit for time served, Williams said his sentence will run concurrent with his federal sentence, and all the time he has spent in custody since June 27 counts towards that sentence.

In addition, Jeppson agreed to withdraw his appeal in his federal case, while prosecutors agreed he can no longer be charged in connection with Kiplyn Davis's disappearance. O'Bryant said the only charge that is not subjected to a statute of limitations is murder, which Jeppson cannot be charged with in the future.

Judge Lynn Davis agreed to reduce Jeppson's charge to a third-degree felony before sentencing him to zero to five years in prison. Davis pointed out that the charge is based on the same information from which Jeppson was convicted in federal court, where he received a sentence three times the normal length because of the connection to a murder case.

While the resolution brings some conclusion to the case, Davis noted that Kiplyn Davis's parents are no closer to discovering what happened to their daughter.

"This is a painful, but only partial, closure of this case as it relates to the Davis family and also the Jeppson family," he said.

Jeppson and his family declined to comment on the plea agreement Wednesday. However, Jeppson's wife, Jessika, has maintained his innocence in her blog. Writing on Wednesday morning before the plea, she described years of scrutiny into Jeppson's life, because of a "bad joke" he told that prosecutors have said was a confession.

"So the guy made a bad joke, and he might not have the best memory around ...," she wrote. "I certainly could be accused of more. Could you?"

Kiplyn's father, Richard Davis, said Jeppson is in custody because he told lies. Had Jeppson told the truth to investigators, he may be home with his family now, and Kiplyn may be home with hers, he said.

"Two families were hurt today," he said. "That was because of the lies."

Richard Davis said he did not want to go with Wednesday's deal, but it was something the family had to do. He said he was not convinced of Jeppson's innocence, despite Jeppson's affidavit. Davis said that whether Jeppson was involved in Kiplyn's disappearance or not, he needs to come forward if he knows something.

"I think Chris Jeppson had something to do with my daughter's disappearance," he said.

http://www.heraldextra.com/news/local/article_ff2916f1-364c-563d-87bf-fc6adaa773a9.html
Get Kiplyn Davis' Case on America's Most Wanted


As the 15th anniversary of the disappearance of Kiplyn Davis approaches, the need to get more attention for this case becomes more and more crucial with the passage of time. We shouldn't want her to disappear as memories of what happen fade until they cease to exist; we should want to turn a lethargic investigation up a notch to fill in the gaps of this baffling saga.

Timmy Olsen is set to stand trial for her alleged murder within the next couple years, but without any physical or forensic evidence all they have against him is circumstantial evidence and hearsay. Things look bad for him with several supposed confessions, making authorities think he knew where her body was, and many other things creating marks on his record. No matter what we must consider him innocent until he is proven guilty and give him his day in court.

What's left is the matter of what happened and where Kiplyn is now. No evidence exists to prove Kiplyn is dead or what happened to lead to her death, if she is dead. We don't have a body or even a good idea of where her body might be. After nearly 15 years, the further the case progresses, the closer it gets to where it started.

America's Most Wanted is a fantastic program that captures fugitives, reunited families, and brings missing persons home. Millions of people watch this program every week, which is why it's so successful. Getting her case on this show would give the case the shot in the arm it needs.

I urge you all to write a letter to this program asking for her case to be profiled. Here is the criteria:

AMW can only accept missing person cases that have been reported to police. If you have not yet reported your case to local authorities, you should do so immediately. To have your case considered for America's Most Wanted and AMW.com, send a letter with the following elements to: America's Most Wanted
Missing Persons Unit
P.O. Box Crime TV
Washington, DC 20016

http://www.examiner.com/x-28069-Salt-Lake-City-Missing-Persons-Examiner~y2009m12d13-Get-Kiplyn-Davis-Case-on-Americas-Most-Wanted

Similar topics
---
Permissions in this forum:
You
cannot
reply to topics in this forum