December 13, 2007
Ventura, California
CHIOMA GRAY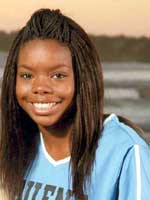 Photograph taken in 2006
DESCRIPTION
Date of Birth: April 27, 1992 Place of Birth:
Sex: Female Hair: Black
Height: 5'4" Eyes: Brown
Weight: 115 pounds Race: Black
THE DETAILS
Chioma Gray has not been seen since December 13, 2007. She is believed to have been taken from her high school in Ventura, California, and driven to Mexico by fugitive Andrew Tafoya. The two may be travelling in a stolen, white 2008 Acura TSX with California license plate 6AXX928.
SUSPECT - Andrew Joshua Tafoya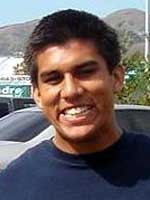 It is believed that Tafoya took Gray across the border into Mexico on December 13, 2007. An arrest warrant was issued for Tafoya by the Ventura County Superior Court on December 14, 2007, after he was charged with child stealing, contributing to the delinquency of a minor, and car theft. On December 31, 2007, Tafoya was charged with unlawful flight to avoid prosecution and a federal arrest warrant was issued by the United States District Court in Los Angeles.
--------------------------------------------------------------------------------
Individuals with information concerning this case should take no action themselves, but instead immediately contact the nearest FBI Office or local law enforcement agency. For any possible sighting outside the United States, contact the nearest United States Embassy or Consulate.

Guest

Guest





What Really Happened in the Chioma Gray – Andrew Joshua Tafoya Case?

On December 10, 2008, In General, Smoke & Mirrors, By Lynn

By: Lynn Green

For the past several months I have been watching and reading about the strange case of Chioma Gray and Andrew Joshua Tafoya. Sometimes I'll act quickly on a story…but sometimes I just sit back and wait.

I've waited this one out long enough now. Here is what is appearing on hundreds of black owned blogs throughout the blogosphere:

a. Chioma Gray was kidnapped at age 15 by Andrew Joshua Tafoya, who was 20 at the time

b. The mainstream media is ignoring the case

c. No one in the mainstream is looking out for Chioma

Let us start with "C". No one is looking for Chioma. Actually, the FBI has Andrew Tafoya on their wanted list and reported that they believe him to be in Mexico. However, they are not sure, as they have not counted out the fact that he knows he is wanted and therefore, he may be back in the U.S. Realistically, if the FBI knew where this monster was located, don't you think they would have picked him up by now?

Next, I would like to tackle "B". There are claims that the mainstream media is ignoring the case. I wonder what they mean by "ignoring"? It does not get more mainstream than America's Most Wanted and sure enough, this case is right there on their website.

Also, if you run a Google search, you will see hundreds of articles covering this case. In addition, why such attention on the mainstream? If black bloggers cover this story more often than do white media or white bloggers, is it less authoritative because blacks are covering it?

Now, let's deal with "A". Reports indicated that Andrew Joshua Tafoya had kidnapped Chioma Gray. The definition of kidnapping is below:

To steal, carry off, or abduct by force or fraud, esp. for use as a hostage or to extract ransom

Because she was 15 and he was 20, I guess we can call it kidnapping, but….did he really take her by force or did she voluntarily leave with him? Do not misunderstand me here. He was WRONG to date and have sexual relations with a 15 year old child. That is a fact!

It is very, very difficult to get the complete facts leading up to the disappearance. However, I continued to dig until I found an article in the Ventura County Star

Here is how Chioma met her "kidnapper"

Black said her daughter met Tafoya through her son, Chidiebere Okehi. Tafoya and Okehi played football together, first at St. Bonaventure High School. Okehi and Tafoya also played together at Ventura College and were friends, she said.

Black said she first learned of Tafoya's interest in her daughter when he showed up at a soccer game in which Chioma Gray was participating.

Tafoya was sentenced in late June to 210 days in county jail and 36 months of probation. He was placed on a work furlough program as part of his sentence.

Tafoya was ordered not to have contact with the girl and not to associate with anyone under 18 unless in the presence of a responsible adult, according to the FBI.

But Black said she saw her daughter get out of Tafoya's car just a day before he was to begin his work furlough program last summer.

Black said she notified Ventura police but that police failed to take any action.

"I would have liked to have seen him sent to prison for this," Black told reporters.

When asked if Chioma Gray and Tafoya were in a consensual relationship, Allred [lawyer for the family] responded, saying the important issue is that the relationship was illegal since Tafoya was having sex with an underage girl.

Let us stop there, shall we? I agree 100% that Tafoya had no business in a sexual relationship with the 15 year old Chioma. And I am happy that he admitted to and was convicted of unlawful sexual relations with her.

However, the fact that Attorney Allred did not allow Chioma's mother to respond to whether or not Chioma was voluntarily in a sexual relationship with Chioma says a lot.

Here are the facts:

Chioma met Tafoya through her brother

Chioma was seen by her mother voluntarily getting out of Tafoya's car

Apparently Ms. Black was unable to get through to her daughter, as her daughter defied her and continued seeing Tafoya even after he was convicted for underage sexual relations with her. Ms. Black had to go to the police. And my guess is that the police did not get too upset over it because it appeared that the girl was voluntarily in a relationship with this older, 20 year old man.

Black bloggers are complaining that no Amber Alert had been issued after she disappeared. The police said that they did not issue it because they believed she left with him voluntarily—therefore, it was not really an authentic kidnapping.

I will say this. Fifteen year old girls are impressionable. My guess is that Andrew Joshua Tafoya was her first crush and perhaps the first guy she has slept with. In her immature mind, he is her Prince Charming.

I remember reading another article where Ms. Black indicated that her daughter never left home without her makeup. Interesting. I was not interested in makeup at 15 and doubt my mother would have allowed me to wear it at that young age. So there are some issues here that black bloggers are ignoring.

Growing up, I had a "fear" of my mother. Not a "scared of her" fear. But a reverential fear. She would not have needed to tell me more than once to stay away from a boy! Hello? I find it interesting that nothing this mother said apparently affected Chioma at all. And so she went to the police for help.

The police cannot solve all of our family problems. They really cannot. The police could lock Andrew Joshua Tafoya up for his illegal sexual relationship with the 15 year old and they did that. However, they could not force this girl to stop seeing him and so she obviously continued seeing him.

I'm about to anger some folks but you all know me. I have got to just be myself and keep it real.

I believe that Chioma's sexual relationship with Andrew Joshua Tafoya was voluntary. I believe she continued seeing him voluntarily. I believe she schemed to run off with him voluntarily. I believe she is with him at this very moment voluntarily. I believe she is hiding out with him voluntarily. I believe she is still sleeping with him voluntarily. I believe she is on the run with him voluntarily. I could be wrong but this is my opinion and belief.

My sincere hope is that she does not turn to any illegal or dangerous activity to gain money. I just pray that he does not try to become her pimp. That's my biggest fear.

Very few criminals will admit to a crime. He actually admitted sleeping with this underage girl. My hope at this point (since she is now 16) is that he actually has fallen in love with her and would never put her out on the street or in harm's way to earn money to stay on the run. I pray he will never hurt her. Truth is, they can legally marry now in many states so perhaps he will return, do his time, then marry her.

Wishing peace to her family, as I know this must be painful.

Guest

Guest





Thanks for that information Sharon. It would seem she is not really 'missing' as such though - more like she ran away with her boyfriend.
Let's hope that he is looking after her and they are happy.....

Guest

Guest







Similar topics
---
Permissions in this forum:
You
cannot
reply to topics in this forum