April 4, 2001
Portland, Oregon
SHAUSHA LATINE HENSON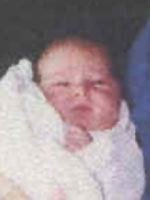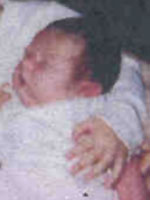 DESCRIPTION
Date of Birth: January 26, 2001 Place of Birth: Oregon
Sex: Female Hair: Brown
Height: Infant (at the time of her disappearance) Eyes: Unknown
Weight: Infant (at the time of her disappearance) Race: White
THE DETAILS
Shausha Latine Henson and Shaina Ashley Kirkpatrick were last seen with their mother on April 4, 2001, en route to Sacramento, California. On April 29, 2001, the body of their mother was found outside of Fernley, Nevada, while the whereabouts of the two girls remain unknown.
REMARKS
Shausha has a red mark on top of her head.
ADDITIONAL PHOTOGRAPH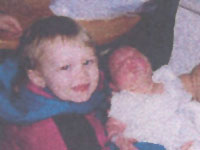 Shaina Kirpatrick and
Shausha Henson

Guest

Guest





The mother was killed!!
RENO -- The father of two children missing for more than a month isn't giving up hope they are alive, even as an exhaustive search continued in the desert near where the mother's body was found.
"I'll grieve when we know we've lost them and I will hold out hope that the kids are OK somewhere," Steven Curtis Kirkpatrick told the Reno Gazette-Journal.
"My biggest hope is that whoever has the children doesn't know they are being looked for. Those little girls are sorely missed and very loved," he said from his home in Portland, Ore.
Kirkpatrick's girlfriend, Kimyala Henson, 21, was found partially buried in the desert April 29, nearly a month after she was last seen alive with 2-year-old Shaina Ashly Kirkpatrick and her 4-month-old sister, Shausa Henson.
They spent the night of April 5 at a motel in Redding, Calif., with a couple who died April 20 in a murder-suicide in Florida. Washoe County Sheriff Dennis Balaam said the dead couple, Frank Oehring, 28, and Christina Mayer, 24, are the only suspects in Kimyala Henson's slaying.
She was shot to death and left in the desert 60 miles northeast of Reno where her body was found by a motorist who had pulled off the road.
Searchers covered about 100 square miles in the area over the weekend and spent another six hours in the area on Wednesday but found nothing. The Search and Rescue team, aided by dogs, the department helicopter and 25-40 volunteers returned on Thursday but had no success.
Kirkpatrick said he last saw Kimyala Henson and his daughters April 4, when they left Portland with Oehring and Mayer on what was supposed to be a sightseeing trip to British Columbia.
He said Mayer was a childhood friend of Kimyala Henson's, who showed up at their home with a man she called "Curtis" and said was her husband.
"I didn't know them at all," Kirkpatrick said. "Nobody knew Frank. He was introduced to us as Christina's husband Curtis. We had no reason not to believe them."
Kirkpatrick learned about Kimyala Henson's death on Tuesday. But he began to suspect foul play April 20 when Florida investigators notified them of the couple's deaths.
Detectives originally thought Mayer was Henson, after finding the younger woman's identification on her body. But Mayer did not have a heart-with-wings tattoo that helped investigators identify Henson.
Kirkpatrick was in limbo during the two weeks it took to find and identify the woman.
"I would sit there waiting by the phone waiting for someone to call and tell me Kim was dead, or for Kim to call me and tell me she was OK," Kirkpatrick said. "The not knowing kept me from grieving. It's the not knowing that really gets to you."
And the not knowing continues as he awaits news about the girls.
"I bounce all over the place," he said. "One moment my feeling is that they are dead, the next moment I think maybe they are with Kim's friends in Sacramento. Maybe they were dropped off at a church somewhere.
"She was a very good mother and wouldn't leave the children anywhere she didn't feel they wouldn't be taken care of."
His oldest daughter had just learned to talk in the months before she disappeared.
"She would pick up words like you wouldn't believe," he said. "If you said the wrong word, it would be her new favorite word.
"She loved to have her picture taken and would smile for anybody. She was such a sweet little girl."
http://www.reviewjournal.com/lvrj_home/2001/May-11-Fri-2001/news/16071846.html
Oh my god! What a sad story! I wonder what happened to the children?

Guest

Guest







Similar topics
---
Permissions in this forum:
You
cannot
reply to topics in this forum