Friday April 09, 2010
Carole Erskine, Sky News Online
The mother and stepfather of an eight-year-old girl found hanged at her home have both been jailed for 12 months for child cruelty.
Charlotte Avenall was found in her bedroom on September 12, 2009. She had severe learning difficulties.
Simon Moody, 32, and Susan Moody, 24, of Mansfield, were sentenced at Nottingham Crown Court after pleading guilty to child neglect.
The court heard how the couple locked Charlotte in her "revolting and squalid" bedroom for 12 hours every night for four weeks.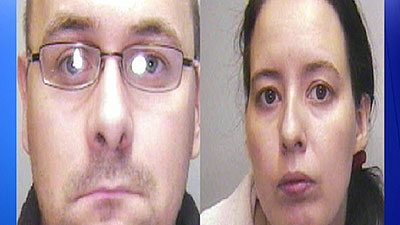 Simon and Susan Moody pleaded guilty to child neglect charges
The disabled youngster, who had the mental age of a three-year-old, had just learnt to tie a knot at school when she wrapped a cord on her bedroom window around her neck.
Judge Joan Butler QC said the couple did not understand "the enormity" of their failure to protect Charlotte.
The judge said: "It's quite plain that the death of Charlotte was a tragic but preventable accident.
"All it would have taken to keep her safe was for somebody to go in to that room and see how it was.
"Your bedroom was on the same floor, so it is hardly an onerous task to go across the hall and check.
Charlotte's bedroom was described as "revolting and squalid"
"Instead, she was left in a foul and filthy mess for four weeks. For 12 hours every night, for those four weeks, you left her in that stinking room and on the day she died you had left her for 14 hours in that room."
The police officers who found Charlotte said they had never seen a room as filthy as the one in which the child was forced to live in.
The youngster had smeared her own excrement on the walls and ceiling, and was forced to use her chest of drawers as a toilet.
Detective Superintendent Adrian Pearson said: "Our detailed and exhaustive investigation revealed Charlotte's death was a tragic accident.
"However, it also showed in great detail the neglect that she suffered at the hands of Simon and Susan Moody in the final weeks of her young life.
"The conditions in which she died were the most shocking I have ever had the misfortune to see in my career."

Guest

Guest





That has just turned my stomach. I hope the two of them rot in prison. Filthy b******s

Guest

Guest






---
Permissions in this forum:
You
cannot
reply to topics in this forum