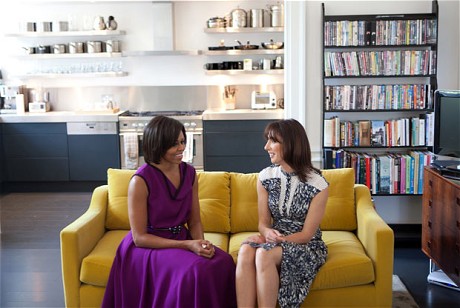 http://www.telegraph.co.uk/news/politics/david-cameron/8543369/Taxpayer-picks-up-650000-bill-for-Downing-Street-renovations.html
Almost £700,000 of taxpayers' money has been spent refurbishing Downing Street since David Cameron took office, records show.
The new kitchen was glimpsed by the public for the first time this week when Samantha Cameron posed for pictures with Michelle Obama Photo: Lawrence JACKSON/THE WHITE HOUSE/AFP/Getty Images
By James Kirkup, Political Correspondent 7:30AM BST 28 May 2011
The spending includes £30,000 for changes to the private flat above No 11 where the Prime Minister lives with his family. Cabinet Office records show that since last May, £683,000 has been spent on the Downing Street premises, which serve as both home and office to the premier. Responding to Labour criticism, Mr Cameron's team said that the refurbishment was part of a works programme started in 2006 by the last government.
Mr Cameron, his wife and three children live in the flat above No 11, which is larger than the one above No 10.
Before the family moved in last year, extensive renovation was carried out, including the installation of a new kitchen. It was glimpsed by the public for the first time this week when Samantha Cameron posed for pictures with Michelle Obama.
The alterations to the flat were partly funded from a £30,000 annual allowance for the upkeep of the Prime Minister's home. The Camerons also made an undisclosed contribution, paying for the kitchen fixtures and fittings. Details of the expenditure on the Downing Street offices and flat were included on a Cabinet Office database where the Coalition is reporting every item of public spending above £25,000.
Government spokesmen said this year's spending of £653,192 on the Downing Street office complex was in line with expenditure in previous years. In 2007-2008, for instance, £1.3 million was spent.
RELATED ARTICLES
Councils spend £100m on taxpayer-funded credit cards 27 May 2011
A spokesman for No 10 said: "This spend relates to the Downing Street Building Modernisation Programme launched in 2006, under the last government, to address structural repairs and the renewal of failing infrastructure, having gone without refurbishment for some 50 years.
"This programme of work is still ongoing. Downing Street is a Grade I listed building. As such it requires a certain level of maintenance."
Referring to the £30,000 spent on the Camerons' flat, the spokesman said that the allowance had been spent on "permanent, core refurbishment". That work consisted of electrical work and plumbing; alterations to structural improvements and painting and decorating.
"No public money was spent on furniture, fittings or accessories," she said.
Previous prime ministers have used the annual allowance on the Downing Street flat. In 2009-10, the last year of the Labour government, a total of £29,389 was spent on work on the flat, then occupied by Gordon Brown and his family.
Tom Watson, a Labour MP, criticised Mr Cameron for spending public money on the flat.
He said: "The Prime Minister heralded the age of transparency and said we're in a for a period of austerity. Lo and behold the taxpayers subsidised a £30,000 kitchen. He's not living up to his pledges."

Angelique

Platinum Poster








Number of posts

: 3418


Location

: Freezing in England


Warning

:




Registration date :

2010-08-28



---
Permissions in this forum:
You
cannot
reply to topics in this forum