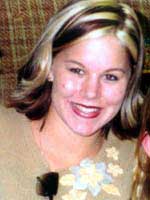 January 10, 2002
Georgetown, Texas
RACHEL LOUISE COOKE
DESCRIPTION
Date of Birth: May 10, 1982 Place of Birth: Dallas, Texas
Sex: Female Hair: Blonde with auburn streaks
Height: 5'2" Eyes: Hazel
Weight: 110 pounds Race: White
THE DETAILS
Rachel Louise Cooke was last seen jogging in her parents' neighborhood subdivision in Georgetown, Texas, at approximately 11:30 a.m. on Thursday, January 10, 2002. She had been home visiting her family from college for the Christmas holidays and had jogged the neighborhood almost every day that she was home. Cooke has not been seen nor heard from since that time.
REMARKS
Rachel Louise Cooke was last seen wearing a gray t-shirt, a green sports bra, gray shorts, and white tennis shoes. She was also wearing a bright yellow portable radio with headphones. Cooke has pierced ears and a pierced naval. Both ears have multiple piercings with one ear having an upper piercing in the cartilage. She has a tattoo of two heart-shaped cherries on her left shoulder and a black star on her left foot.
--------------------------------------------------------------------------------
Individuals with information concerning this case should take no action themselves, but instead immediately contact the nearest FBI Office or the Williamson County Sheriff's Office (WCSO) at (512) 943-1300 or (512) 943-1396. For any possible sighting outside the United States, contact the nearest United States Embassy or Consulate.

Guest

Guest





http://www.rachelcookesearch.org/journal.html
This is very sad...it's her fathers journal
This is the last entry...I wonder why he stopped!
The Search for Rachel, a father's journal
Sunday, July 1 through Tuesday July, 31, 2007
Rachel Alert Network will have a table at the Children's Back to School Health Fair at the Cantu-Pan Am Recreation Center at 2100 East 3rd Street in East Austin. The Fair runs from 10:00 a.m.until 1:00 p.m. on Saturday, August 18, 2007. It is sponsored by Superior Health Plan. We will be handing out child and adult safety information and a few school supplies.
OK I'm reading back and here are some entries that they found a suspect.


Tuesday, November 21 through Thursday, November 30
Janet and I met with the Williamson Country DistrictAttorney and the two prosecutors assigned to Rachel's case. The prosecutors are the same people who prosecuted Michael Moore for the murder of Christina Moore.

The District Attorney's Office cannot give any timeframe for when and if Michael Keith Moore will be charged and tried for Rachel's murder. They have a lot of work ahead of them.

As I have stated many times, I cannot and will not disclose any information which might hinder Rachel's case. We know people are interested and want to know "inside information", but that's not going to happen. I will share what I can, but it will mainly deal with our family's search for answers and what we go through day by day. That is one of the main reasons I started this journal almost five years ago.

But then.........

Friday, June 1 through Thursday, June 30, 2007
Michael Keith Moore decided to talk to a reporter at the AUSTIN AMERICAN-STATESMAN. He is now saying that he made up the entire story about abducting Rachel in order to gain special treatment in jail, such as better food and visitation rights.

The same newspaper reporter interviewed me, and I stated that it's hard to know what the real truth is. A person like Moore is skilled at lying and manipulating people. The only thing I do think is a lie is when he told the reporter he wanted to tell the truth now so the real perpetrator did not go free, and he didn't want to hurt our family anymore. I don't think he cares about either. He only cares what happens to himself.
First think of your own family and loved ones and be sure they are always moving about in as safe an environment as possible. Rachel was confident that she was okay jogging in her own neighborhood. She had done it hundreds of times. Make sure your loved ones are always in the company of someone you know when out of the house. It may seem confining, but be prudent and teach your children to be aware of their surroundings and potential dangers, without creating paranoia. There are many educational programs available, usually through your local law enforcement agencies, Search and Rescue groups, churches, Gabriel's Gifts, etc. Particularly useful are updated ID Kits available from The Laura Recovery Center, Gabriel's Gifts, Texas EquuSearch, or other organizations.

Contributions may be made to support the continuing search efforts to bring Rachel home or other search activities needed in the future. These may be sent to:
First State Bank Central Texas
PO Box 1699
Georgetown, TX 78627
c/o Rachel Cooke.

Your interest and participation are appreciated, as we are fully focused on returning Rachel to her family. Please e-mail us if you are interested in helping.

Guest

Guest





Home Spanish Poster English Poster Provide Information Links Searches Journal Tributes

For Immediate Release September 19, 2002
COOKES INVITED TO WHITE HOUSE CONFERENCE

Robert and Janet Cooke of Georgetown, whose daughter, Rachel Cooke, has been missing since January 10, have been invited to participate in the first-ever White House Conference on Missing, Exploited, and Runaway Children. The conference will take place on October 2, 2002, at the Ronald Reagan Building and International Trade Center in Washington, D.C.

Hosted by President Bush, the one-day conference will focus on prevention of child victimization and effective law enforcement policies for handling crimes against children. Conference topics include domestic and international parental kidnapping, sex trafficking of children, child pornography, runaway and homeless youth, Internet safety, and corporate and community involvement.

In addition to Cabinet members, conference participants include federal, state, and local officials, law enforcement personnel, families of victim children, and corporate leaders. Tim Miller, director of Texas EquuSearch who has been assisting the Cookes in their search for Rachel and whose own daughter was abducted, will also attend the White House Conference.

October 2, 2002
Conference Highpoints by Robert Cooke

The WHITE HOUSE CONFERENCE ON MISSING, EXPLOITED, AND RUNAWAY CHILDREN was opened at 9:00 a.m. by U.S. Attorney General John Ashcroft. He set the bar immediately; it doesn't matter how many children are taken from their family because one child is too many.

After Mr. Ashcroft, several panels of speakers presented the various issues of the missing, exploited, and runaway children in our nation and the rest of the world. The first panel was named RISKS TO AMERICA'S CHILDREN AND YOUTH. The panel was lead by Ernie Allen, the President and CEO of The National Center for Missing and Exploited Children.

The most notable speakers on this panel were Don and Claudine Ryce, the parents of murdered 9-year-old Jimmy Ryce. Mr. Ryce made the same statement I have used before. He said the abductors were domestic terrorists. Mrs. Ryce told how their foundation donates bloodhounds to law enforcement agencies in the United States. Bloodhounds can follow the victim's scent even if he or she is taken in a car. Mrs. Ryce also described what Jimmy's abductor did to him. I can't repeat it here. It is too horrifying.

The second panel of speakers was hosted by Bob Flores, an administrator in the US Department of Justice, Office of Juvenile Justice and Delinquency Prevention. The panel was named WHAT WORKS - SUCCESSFUL PROGRAMS. Texas State Senator Florence Shapiro spoke about the Texas Amber Alert implementation. Rick Minicucci from the NCMEC showed a demonstration of the age progression software that the NCMEC has. Lieutenant Bill Walsh from the Dallas Police Department explained their office's S.O.A.P. system for tracking paroled sexual offenders. The program enforces zero tolerance when a paroled sexual offender violates his or her parole. I want the system put in place in every county in Texas.

During a break I was interviewed by FOX News. They will forward the interview to the local Austin station. The grandmother of murdered 6-year-old Philadelphian Destiny Wright was sitting at my table. We talked to each other throughout the day.

The third panel, named THE FEDERAL ROLE, was hosted by FBI director Robert S. Mueller III. Lee Heath, the Chief Postal Inspector, reported on the huge "candyman" child pornography organization that was just broken up. Chief Proceeding Fulton County, Georgia Judge Nina R. Hickerson explained how bad forced child prostitution is and what needs to be done to prevent it.

President George W. Bush and First Lady Laura Bush then took the stage. Laura Bush introduced her husband. President Bush reiterated what John Ashcroft said. One missing or abducted child is too many.

Mr. Bush then went on to praise various public and private organizations that are helping with the fight against abductions, exploitation, and runaways. After the President spoke, he walked around the edge of the crowd for almost an hour shaking hands. Janet gave her hand to him and he pulled her to him and hugged her. He said "You're Rachel's mom". The President knows about Rachel Cooke! I also shook the President's hand after that. A group of us made sure that Destiny Wright's grandmother also met the President.

To read the President's speech click here.

Just before lunch, I met Texas Senator Florence Shapiro, who spoke on the second panel. The DALLAS MORNING NEWS interviewed me after that, and then ABC News interviewed Janet and me together.

As lunch was winding down, the fourth panel, named INTERNATIONAL ABDUCTIONS AND TRAFFICKING, took the stage. This panel was hosted by Undersecretary of State for Global Affairs Paula Debriansky. The most notable of the speakers on this panel was Gary Haugen, President and CEO of International Justice Mission. Mr. Haugen told how children are abducted from one country and then taken to another country to work as sex slaves.

Another speaker on this panel was Thomas R. Sylvester. Mr. Sylvester's son was kidnapped by his Austrian non-custodial mother and taken to Austria. The Austrian government is supporting the mother and won't allow the child to be returned to the U.S.A. This was very interesting because a father sitting at my table had almost the same story. His German wife kidnapped his son and daughter two years ago, and the German government is protecting the mother's right to keep the children. Both Sylvester and the father at my table have involved the U.S. government in their quest to bring their children home.

The next panel, hosted by Secretary of Health and Human Services, was called CARE FOR MISSING CHILDREN AND THEIR FAMILIES. The most notable speaker on this panel was Sister Mary Rose McGeady, the president of the Covenant House in New York City. The Covenant House reaches out and helps runaway children. They feed them, clothe them, rest them, and counsel them. I was impressed when Sister Mary Rose said they work with the children to develop a plan for the child. The child is involved in the whole process.

During the break I met Erin Runnion, the mother of murdered 5-year-old Samantha Runnion. It was a very emotional experience. We both cried.

Secretary of Education Roderick Paige hosted the PREVENTING THE VICTIMIZATION OF CHILDREN panel. This panel did not really cover any new topics.

NBC News then interviewed me. As I was finishing the interview, Janet came by and they interviewed her after me.

THE ROLE OF MEDIA AND CORPORATIONS panel was hosted by John Walsh of AMERICA'S MOST WANTED. John Murphy, Vice President of Loss Prevention at Walmart explained the Adam Alert that all Walmart and Sams stores have implemented. All employees are trained on the program before they start to work. When a store receives a missing child report from a customer, the store is locked down while customers and employees search for the child. If the child is not found within 10 minutes, law enforcement is notified.

Another good speaker on this panel was Parry Aftab, the Executive Director of WiredSafety.com. Ms. Aftab is developing Internet safety tips for parents. She believes the wrong thing to do is to prevent the child from using the Internet. I agree with Ms. Aftab.

Secretary of State Colin Powell closed the conference. He is a very powerful speaker and not at all what I would think an Army general is usually like. He had several of us close to tears with his speech. I can see that man running for President some day and winning!

After the conference Janet and I grabbed John Walsh as he was trying to leave. Mr. Walsh sounded positive about featuring Rachel on his new television show. Janet and I will keep our fingers crossed.

Guest

Guest





---
Permissions in this forum:
You
cannot
reply to topics in this forum