Name:Deirdre O'Flaherty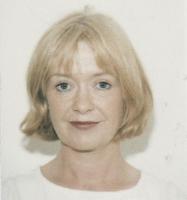 Date Missing:11/01/2009
Gender:Female
Height:5"1
Build:Sleight
Hair Colour:Blond
Further Information:
Gardaí in Buncrana are appealing for assistance in tracing the whereabouts of missing person Deirdre O'Flaherty. Deirdre has been missing since the 11th January 2009. She went missing from her holiday home in Moville on this date, and it is believed she was wearing a pink jacket.
Buncrana Garda station 074 9320540.

Guest

Guest





Search for missing Strabane woman continues in Donegal


Published Date: 20 January 2009

Searches off the Donegal coast and shoreline at Kinnego Bay continued yesterday (TUES) for missing Strabane doctor Deirdre Donnelly O'Flaherty 46, in very cold icy conditions amidst sleet and snow blizzards.

The mother of three children who attend school in Strabane, was last seen by her family on Sunday Ja
nuary 11, and was wearing a pink anorak. Her silver BMW jeep was left with keys in the ignition on the beach at scenic Kinnego Bay.
Malin Head Coastguard spokesman said yesterday (TUES) shore line searches continued during the day but nothing was found. Searches are due to resume today (WED).

"No boats were out because of the rough seas.The Coastguard search and rescue helicopter from Sligo was due to join in the search, but because visibility was bad, it had to turn back," he said.
Donegal Councillor Marian McDonald, Fianna Fail, said what has happened has left the community "numbed with shock". But she said local people have shown solidarity with the family and are helping with the search.

"A lot of local people are out searching along with her family friends and doctors from the area," she said.
While she did not know Dr Donnelly Flaherty personally, she said her husband's family, also in the medical profession are well known and respected.

"Since it happened the sea has been so rough, and there is a very bad current out there, even the people searching the shore could have been in danger," she said.

The family has a holiday home in the Culdaff area of the Inishowen.
Around 100 people have been involved in this 11-day search, including Greencastle Coastguard, Portrush RNLI, Search and Rescue Dogs Association, Co Down.

Gardai appealed for anyone who saw her anytime after 9:30am on Sunday ( January 11) to contact them at Moville or Buncranna
In Strabane prayers were said for the family, at Leckpatrick Parish Church Masses at the weekend, Rev Fr John Doherty confirmed.
"We are keeping the family in our prayers because they are going through a nightmare experience. We hope they get the strength to deal with this," he said.

_________________________________________________________________________________________________
\'Those who deny freedom to others deserve it not for themselves.\' Abraham Lincoln
Deehan speaks of heartache over missing Strabane GP





By Conor Sharkey



OMAGH GP and SDLP councillor Jo Deehan has spoken of the heartache felt within the local medical fraternity at the disappearance of missing Strabane based doctor Deirdre O'Flaherty.

Councillor Deehan recently worked alongside Dr O'Flaherty who went missing close to Malin Head on Sunday January 15.

The alarm was raised when a passer-by noticed her BMW 4x4 parked on the beach with the keys still in the ignition. Despite extensive searches by local rescue teams and volunteers along the Donegal coast line, nothing has been found.

Speaking to the Strabane Chronicle yesterday, Dr Deehan said she had not given up hope that her missing colleague would yet be found.

"I had the privilege of working with Deirdre O'Flaherty in the Out of Hours Service in Omagh just a few months ago. I found her to be a very caring, gentle and hard working girl and her disappearance has come as such a shock.

"It has been a hard few days for all her colleagues but we are hoping and praying for a favourable outcome. I understand that her remains have not been found and it brings us all great concern.

"There is a very sad mood among everyone who came into contact with Deirdre because she was just such a professional, caring and lovely girl. But like I said, we are all just praying for a favourable outcome," Dr Deehan added.

Meanwhile, a search and rescue team from Malin Head was back on the beach close to Kinnego Bay yesterday morning. It was the tenth day in a row that volunteers have been searching in hope at low tide.

Asked if they believe Dr O'Flaherty will ever be found, a spokesperson said they remained hopeful.

"The sea is a strange place. There have been people who went into the water in this area and were never recovered.

"Others were found in a relatively short period so it is all down to the vagrancies of the tide. But we remain positive that if she did indeed go in, she will be found," the spokesperson said.

Guest

Guest





---
Permissions in this forum:
You
cannot
reply to topics in this forum