CNN: teens' bodies found 800 yards apart in '94
"As is the case with so many other "Jane Does'' across the nation,
14-year-old Sarah Boehm's unidentified remains were kept in a cooler at
the coroner's office in Cuyahoga County, Ohio.
They had been there for more than five years when a breakthrough in 2001
helped turn the case around.
Lt. Kim Clements, a detective with the district attorney's office in
Beaver County, Pennsylvania, noticed a description of remains matching
the missing teen's as she searched the Doe Network, a website for
tracking unidentified and missing persons.
A sample from a femur and a DNA swab from Sarah's mother confirmed the
body was Boehm's. She disappeared on July 14, 1994, in Rochester,
Pennsylvania.
Clements was transporting a witness in an unrelated
homicide
case when she learned of the match.
The DNA results didn't come back until 2003 because of a long backlog at
the FBI lab after the September 11, 2001, terrorist attacks and because
the initial DNA sample was insufficient, police said. Clements said
learning of the match was ''a pretty intense moment'' in her career.
Sarah's family held her funeral in 2006, finally laying her to rest.
While one part of the mystery was solved, authorities are still
struggling to find Sarah's killer. And they still don't know if she was
abducted, ran away or just got into a car with the wrong person
And, investigators still don't know how her body wound up miles away in
the Berlin Reservoir, part of a wooded state park in Ohio. The park is
about a two-hour drive from Sarah's home.
Authorities believe Sarah's case may be connected to the similar death
of Kathryn Menendez, a 17-year-old girl who ran away from her home in
Portage County, Ohio, more than a dozen times.
Their bodies were found just 800 yards apart. Menendez was strangled and
authorities think Boehm may have died the same way.
While it took months for hunters to discover Boehm's skeleton,
Menendez's body was spotted just days after she vanished in August 1994,
a month after Boehm's disappearance."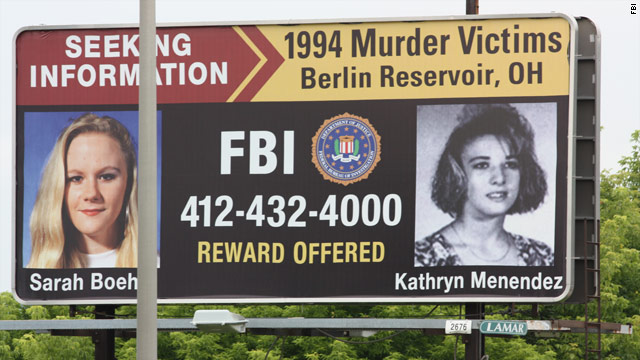 ---
Permissions in this forum:
You
cannot
reply to topics in this forum