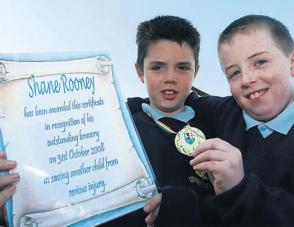 Saturday November 15 2008
A 10-year-old boy saved his friend's life after he accidentally fell into a bonfire.
Keith Doyle from Tullow, Carlow, was loading a tyre onto a bonfire for fuel, when he tripped and stumbled into the roaring blaze.
"Keith went to lift the tractor tyre and there were loose wires around the bonfire, and he tripped on one of them," said Lisa, the mother of Shane Rooney, who saved him.
"When he went to throw up the tyre into the fire, he got thrown in as well."
PROUD
Keith's trousers quickly caught alight and, seeing his friend in trouble, young hero Shane quickly acted to save him.
"He pulled him down on the ground and started slapping him to get the flames out," continued Lisa.
"I'm so proud of him. He just ran for Keith. I had been up at the bonfire with him, and I just came home for a minute.
"But then poor Keith got caught and Sean's trousers also caught fire."
"He's got a right little burn on his leg, his groin and on his fingers," she added.
"He's lucky, it could have been a whole lot worse."
"The nylon tracksuit that he was wearing went straight up in flames.
"He was sobbing and the tracksuit had all melted and it was stuck to his leg."
Keith who is now running around playing soccer like any other 10-year-old said: "I saw the fire down my leg. I didn't scream or anything."
"I thought, 'he's saving me'."
Keith's leg developed an infection after the blaze and he had to sacrifice soccer games at school for a week in order to let it heal.
Keith's mother Geraldine said: "I'm just glad he's okay. It could have been a whole lot worse. It didn't get into his face or upper body.
"All the adults and teenagers were at the other side of the fire, so with the flames they didn't have a hope of seeing the two of them."
"He [Keith] has bad marks on his legs. One mark is very deep and it's taking time to heal," she added.
Lisa added: "Shane doesn't think anything of it himself. He says to me 'sure, I was only trying to help him mam'."
"He doesn't think it was a big thing at all. It was over in a flash."
Sean Dowdall, from Tullow Boys' School -- where the boys are both fourth class pupils -- organised an awards presentation for Shane.
And he said: "Shane was a hero but he didn't even realise it. It was instinctive for him to do what he did."
Shane's courage was honoured during the official opening of the new Tullow Fire Station, in Carlow, and he was presented with a certificate and medal by Keith and local fire chief John Maxwell.

Guest

Guest





Its great to hear some good news for a change .

Guest

Guest







Similar topics
---
Permissions in this forum:
You
cannot
reply to topics in this forum