Maria Teresa Fernandez Martin, missing from Motril since August 2000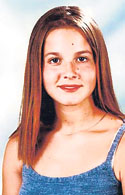 Does Tony King know something or is it just a cry for attention?
Maria Teresa Fernandez Martin went missing from her home town of Motril (Granada) on August 18, 2000, when she was just under 18 years old. She was last seen by her father when he left her at a bus stop. She was planning to join her friends to go to the local fair, but was never seen again. It was first thought that she may have run away, but this doesn't seem likely because a letter she wrote to a friend the same day said: "I'm having a great time at the fair, and I'm thrilled because my parents have bought me a computer."
In August 2003, 17-year-old Sonia Carabantes disappeared after a night at the fair in Coin. Her body was found five days later; she'd been strangled, beaten and stripped but there was no evidence of sexual assault. DNA found at the scene linked this case to that of 19-year- old Rocio Wanninkhof who disappeared in October 1999 in Mijas, also on her way to the fair. Her body was found several weeks later. She, too, had been strangled but with no signs of sexual assault.
Tony King, formerly Tony Bromwich, known in the UK as the Holloway Strangler, was arrested in Alhaurin el Grande in September 2003. He confessed to the murder of both girls, but then later claimed in court that it had been his friend Robert Graham, and Dolores Vazquez, who was already serving a prison sentence in connection with Rocio's death, who had killed the girl in 1999.
Robert Graham was also arrested but released as police had nothing to hold him on. Just one day later, on September 25, 2003, several witnesses place him in Motril, specifically in the cafeteria where Maria Teresa's parents eat breakfast almost every day. In a letter which Tony King sent to his ex-wife, Cecilia Pantoja, he said: "I will make him pay for what he did to Rocio and that girl from Motril."
However, when questioned, Cecilia and her sister said that neither King nor Graham had ever spoken to them about Maria Teresa.
But the letter was not the only reference King had made about Maria Teresa, as in one statement he claimed that the girl had been murdered and he believed that his friend Robert was the culprit.
King also testified in court that he was in Motril with Graham on the day the girl disappeared.
Maria Teresa's family's lawyer has asked that Robert Graham face charges, but his where-abouts are unknown, although he is reported to be in Egypt. He is originally from Salford (UK) and had been living in Spain for six years when he was arrested. He has a criminal record.
Maria Teresa's parents hope that someone may know him and come forward so they can finally obtain closure and discover what happened to their daughter on that day in August, 2000.
Last edited by Antoinette on Wed 23 Dec - 23:30; edited 1 time in total

Guest

Guest





I remember this case in the news a few years ago again but its in Spanish...

Declaran las hermanas Pantoja en el caso de María Teresa Fernández




La ex compañera sentimental de Tony Alexander King, Cecilia Pantoja, y su hermana Ingrid aseguraron hoy ante el juez del Juzgado de Instrucción 5 de Motril que ni él ni Robert Graham les hablaron nunca del caso de la joven motrileña María Teresa Fernández, desaparecida desde agosto de 2000.

Ambas declararon hoy como testigos a petición del abogado de la familia de María Teresa, quien, tras la reapertura por tercera vez del caso, confiaba en que su testimonio aclarase algunos datos aportados por King en su declaración del 8 de octubre, cuando afirmó que la joven había sido asesinada y que tenía el convencimiento de que había sido su amigo Graham.

King ya se refirió presuntamente a este mismo hecho en una carta que envió a su ex mujer, que fue intervenida por la policía sin que su destinataria llegara a leerla, en la que decía que haría "pagar a Graham por lo que le hizo a la chica de Motril".

No acudió, aunque también estaba citada, la ex novia de Graham, Justine Belinda Daniels, que no pudo ser localizada, ya que, según dijo hoy a el padre de María Teresa, Antonio Fernández, "algunos dicen que están en Inglaterra y otros lo niegan".

http://www.radiogranada.es/modules.php?name=News&file=article&sid=836

_________________________________________________________________________________________________
\'Those who deny freedom to others deserve it not for themselves.\' Abraham Lincoln

Similar topics
---
Permissions in this forum:
You
cannot
reply to topics in this forum