Help Haiti - Drop the Debt
Target
: U.S. Treasury Secretary Timothy Geithner and International Financial Institutions
Sponsored by:
ONE
The harrowing images and stories coming out of Haiti are devastating to watch. The incredible outpouring of concern, aid and assistance coming from the United States and all over the world offers hope.
But one tangible way we can truly help Haitians build a better tomorrow is to convince global creditors to cancel Haiti's $1 billion international debt. Doing so will help make sure that every possible future dollar goes towards rebuilding a stronger Haiti, not to servicing old debts.
Thankfully, the United States has already forgiven Haiti's past debts and now only gives assistance in the form of grants. We need Haiti's other creditors – the International Monetary Fund, World Bank, Inter-American Development Bank, and countries like Taiwan and Venezuela – to follow our lead and do the same.
Please sign our petition to U.S. Treasury Secretary Timothy Geithner and international financial institutions urging them to do everything possible to achieve immediate debt cancellation for Haiti.
WE HAVE 29,802 signatures - ADD YOURS NOW!!
http://www.thepetitionsite.com/takeaction/196437118?z00m=19823138

Guest

Guest





A gentle reminder to please sign this petition - it takes a few seconds to fill in the small form and you can remain anonymous if you wish.

It is to stop Haiti from being in a worse position than it was before - if the USA can wipe their financial slate clean they stand a chance of helping themselves after their recent devastation.

Guest

Guest





Dear Claire,
Fabulous news for a Monday... thanks to you, we've won global commitment to cancel Haiti's debt. Here's the latest from this weekend...
Your signature was one of 400,000 delivered to the G7 finance ministers meeting in Canada by ONE member Michèle Bertol, a Haitian Canadian living in the small arctic town of Iqaluit (the G7 can run but they can't hide, ONE members are truly global!). More than 200,000 ONE members signed the petition and a further 200,000 signatures came from our friends at Avaaz, Oxfam, and the Jubilee Debt Campaign.
While in Iqaluit, Canadian Finance Minister James Flaherty announced that all G7 countries – Canada, France, Germany, Italy, Japan, the UK, and the US – have agreed to cancel Haiti's debts. Exactly what we were hoping for.
You can learn more and share your thoughts on this victory with other ONE members on the ONE Blog:
http://www.one.org/international/blog/category/haiti/?id=1447-4591938-Tso0B.x&t=2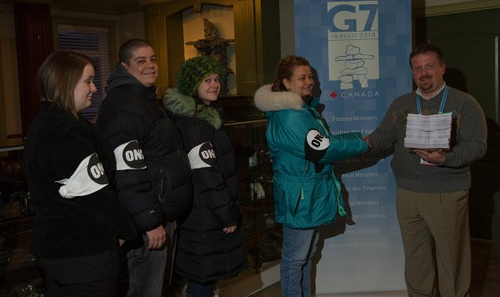 Though the process isn't complete yet, I'm confident that we're on track to see full cancellation of Haiti's debt. It looks very much like Haitians will receive the clean slate they need to start to rebuild.
Thank you so much for making this happen. Moments like this remind me of why this work matters and just how powerful we can be when we act together. I look forward to seeing what we can achieve next.
Yours indebted, er, but not in debt...
Roxane Philson, ONE.org

Guest

Guest






---
Permissions in this forum:
You
cannot
reply to topics in this forum